1 View
AMA Opposes Bill to Close Off Land in Colorado
March 16th, 2010 3:30 PM
Share
Bill had no input from elected officials and OHV groups
The American Motorcyclist Association (AMA) told a key U.S. House committee that it opposes a bill to designate 850,000 acres in Colorado as federally protected Wilderness because, among other reasons, the public land contains dams, power lines, bridges and other structures.
The AMA noted its opposition in a formal letter dated March 10 to the U.S. House Subcommittee on National Parks, Forests and Public Lands that will be part of the committee report for the bill. The AMA also complained that the measure would designate the land as Wilderness without any input from local elected officials and affected user groups.
"By designating these public lands Wilderness, the legislation will close off responsible motorized access to hundreds of thousands of acres," said Ed Moreland, AMA vice president for government relations, in the letter.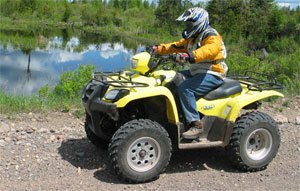 Moreland sent the letter to committee Chairman Raul Grijalva (D-Ariz.) and Ranking Member Rob Bishop (R-Utah) prior to the committee's hearing on the bill, which was introduced by U.S. Rep. Diana DeGette (D-Colo.).
Moreland noted that the affected land isn't in DeGette's congressional district, and "to date not one Colorado representative has co-sponsored (the bill). This is very telling — the local population in the area affected does not support this bill."
At that hearing on March 11, U.S. Rep. John Salazar (D-Colo.) testified:
"This bill in its current form will close numerous motorized routes, snowmobile areas and mountain bike trails," U.S. Rep. John Salazar (D-Colo.) testified on March 11. "These are important activities in my district that contribute to both the quality of life that my constituents enjoy as well as being a major economic activity in these communities."
In his letter, Moreland wrote that public land is for the enjoyment of all Americans and not just those who are physically able to enjoy them.
"Enthusiasts who enjoy our nation's public lands are not just the nimble and fit but also families with small children who wish to recreate together, as well as active senior citizens and handicapped who enjoy the freedom to access the outdoors that off-highway vehicles and all-terrain vehicles provide," he wrote.
"The AMA opposes any process that does not allow full public debate on the disposition of public lands," added Moreland. "Indeed, these designations deserve to be considered to allow time or thoughtful deliberation and input from affected user groups, local and state elected officials and Congress. However, the AMA, Colorado Off-Highway Vehicle Coalition (COHVCO), Trails Preservation Alliance (TPA) nor any of their individual members or member clubs were contacted or asked for input to avoid conflict with existing multiple-use (including, but not limited to motorized) activities."
To see the AMA's letter to the U.S. House Subcommittee on National Parks, Forests and Public Lands click here. To take action on this issue, visit the AMA's official web site.
Published March 16th, 2010 3:30 PM
Top Brands
Popular Articles