1 View
American Honda Wins Tecate Score San Felipe 250
March 18th, 2009 11:43 AM
Share
Matlock, Goodman, Caster ride TRX700XX to victory
The American Honda team of Wayne Matlock, Harold Goodman and Josh Caster won the Tecate Score San Felipe 250 overall ATV title on March 13, 2009.
This was the first year in San Felipe that the team rode the Honda TRX700XX. Though it was the same course as last year's race, each rider on the team spend time running his section of the course multiple times. The course included everything from sand washes and rocky canyons to large whooped out sections as it made it's way around Baja.
Matlock was the third quad off the line and rode to race mile 25 where he handed the quad off to Goodman, who rode into the big sandy whoops of Borrego and down Diablo Dry Lake. Along the way he was able to take the lead before Caster took over at mile 93.
Caster was able to jump on the quad in the lead by three minutes thanks to Goodman. Caster's section included the famous desolate and rocky Matomi Wash before handing the quad back to Matlock at race mile 170. Before handing the quad off to Matlock, Caster was able to add another six minutes to the lead.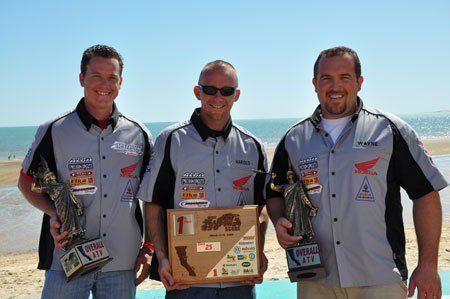 Matlock rode the final section of the race, which included the rock filled whoops of the Azufre and Huatamote Washes before heading back towards San Felipe. Matlock continued the fast pace the team set early in the race and managed to add more than six minutes to the team's lead before crossing the finish line.
The team's time of 5:16:36 (44.04 mph) was more than 15 minutes faster than the second place Pro ATV team of Felipe Velez, a local team of San Felipe aboard a Honda TRX450R. Team Honda's time was good enough to take the win in the Pro ATV class as well as the Overall ATV win.
Matlock Racing would like to thank their sponsors: Honda, Alba, Precision Concepts, Maxxis, Elka, Houser Racing, KZ Trailers, HMF Exhaust, Fly Racing, Pro Honda Oil and Chemicals, Baja Designs, Tire Balls, DWT, Renthal, Motion Pro, Streamline, IMS-Roll, IMS, TCX Boots, Quadtech, Scott Goggles, UNI Filters, DID Chains
Related Reading
Matlock, Goodman, Spaeth and Miller win Baja 1000
Matlock, Spaeth and Miller win Baja 500
Published March 18th, 2009 11:43 AM
Top Brands
Popular Articles