1 View
Arctic Cat to Slow ATV Production
February 2nd, 2009 1:44 PM
Share
Overall demand for ATVs remains weak
In response to the current economic conditions, Arctic Cat plans to slow ATV production.
"Unfortunately, overall demand for recreational products remains weak, due to the year-long deterioration in global economic conditions, higher unemployment, historically low consumer confidence and the continued credit crisis," says Arctic Cat CEO Christopher A. Twomey. "As a result, industry-wide ATV retail sales declined further in the December quarter and we do not see a quick recovery. Retail sales of Arctic Cat's ATVs fared somewhat better than the industry as a whole for the quarter and year to date. However, because of the weak retail environment, we are now planning significantly lower ATV sales to our dealers in the fourth quarter versus the prior-year period, in order to better align dealer inventories with consumer demand.
"This action will negatively impact our revenue and profitability this fiscal year, but it is necessary given prevailing market conditions. Given this situation, we are implementing several profitability initiatives aimed at improving our margins, reducing operating expenses and achieving profitability in our next fiscal year 2010."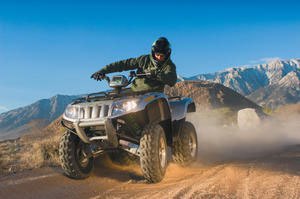 This news comes on the heels of Arctic Cat's announcement that it will eliminate 100 jobs, or 7 percent of its workforce.
Despite these actions, Arctic Cat actually reported improved net sales in the fiscal 2009 third quarter, which ended Dec. 31, 2008. Arctic Cat reported sales of $174.7 million in the quarter, compared to $159.6 in the same quarter last year.
"Increased snowmobile sales to dealers, which generated higher gross margins, and lower operating expenses contributed to a narrower loss for the quarter. As a result, the company is profitable through the first nine months of our fiscal year," says Twomey.
Sales of Arctic Cat's ATVs were down 18 percent to $57.8 million versus $70.1 million in the prior-year third quarter. Arctic Cat's 2009 third quarter results benefitted from sales of the Prowler utility vehicle and large-displacement engine models, such as the launch of the new two-rider TRV 1000 and Prowler 1000 XTZ, as well as the Thundercat 1000 ATV. However, this was not enough to offset the continued weak environment for ATVs in general. Year-to-date, Arctic Cat's ATV sales totaled $183.2 million, down 12 percent compared to $207.4 million in the first nine months of last fiscal year.
Published February 2nd, 2009 1:44 PM
Top Brands
Popular Articles