1 View
Arctic Cat Wins Quad Terrain Opener
July 22nd, 2008 2:29 PM
Share
Josh and Jesse West finish 1-2
Jesse and Josh West took center stage as the brothers finished 1-2 at the Quad Terrain opener at the Sandbox Arena in New Richmond, Wis. on July 19. Both brothers were riding the new 2009 Arctic Cat 700 H1 4×4 ATVs.
Josh West qualified first for the 14-lap final after winning both heats with Jesse qualifying second. The final turned into a brother battle as Josh led the way early on, but Jesse wasn't far behind battling through traffic. Eventually Jesse passed Josh and checked-out until the checkered flag waved for a first place finish, while Josh held off the competition for second.
"The new 2009 Arctic Cat ATVs are tough, and Jesse's riding abilities make us even tougher to beat when it comes to Quad Terrain racing outdoors or indoors," says Ted Bettin, Arctic Cat race manager.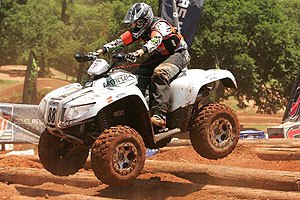 Jesse West is no stranger to success in Quad Terrain Challenge racing. He won the WPSA QTC Championship in 2007 and also won the first-ever indoor Endurocross.
"It was nice to see my brother on the podium with me," says Jesse West. "It's really a statement for West Racing and Arctic Cat to post an early win on the 2009 700H1 SE. The durability on these machines is second-to-none in these conditions.
"The Sandbox Arena was a great place to race. The crew here did an unbelievable job at building the track. This is a venue both fans and racers love."
For more on the Quad Terrain Challenge, visit http://www.sandboxarena.com/.
Published July 22nd, 2008 2:29 PM