1 View
Arctic Prowlers Finish 1-2 in Baja 1000
December 3rd, 2008 3:22 PM
Share
First UTVs to ever finish race
Racing a pair of stock Arctic Cat Prowlers, the Bi-Polar/Arctic Cat team beat the brutal conditions to finish first and second place in the SCORE Baja 1000, the world's longest continuous off-road race.
It was the first time in race history a side-by-side UTV vehicle has finished what is widely regarded as the most grueling off-road race in the world.
Most competitors were in agreement that this year's course was the toughest in race history. In addition to the usual array of car-sized boulders, horrible silt sections and surprise obstacles, the course delivered a 60-mile section of 4-ft. whoops that claimed many of the 347 racers. Only 227 vehicles survived to finish the famed event.
Finishing first in the 634-mile race with a time of 27 hours and 57 minutes was a stock 2009 Prowler XTZ 1000 driven by Creagan and co-pilot Tim Wagner for the first 409 miles, followed by driver/co-driver Chris Fallon and Aaron Bahner for the remainder of the course.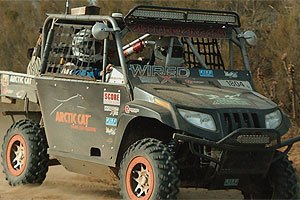 "We were the first-time finishers and first-time winners in this greatest of all races because of a total team effort," says Bi-Polar team co-owner and driver Jim Creagan. "From start-to-finish, every person fulfilled their role perfectly and each Prowler performed magnificently."
Taking second place at 28 hours and 13 minutes was a 2009 Prowler XTX 700 EFI driven by three driver/co-driver combinations: Shane Morgan and Tabor Cresap, Scott Sorenson and Justin Serface, and Casey Squires and Mike Connors.
It was just the second attempt at the Baja 1000 for the Bi-Polar/Arctic Cat team. In 2007 they made it to mile-810 before succumbing to a broken suspension bolt. They returned this year, ready to prove the Prowler's durability and to support their sponsors: Arctic Cat, Wired Energy Drink, Vision X Lighting, GBC Motorsports, TrailReady Beadlock Rims and King Shocks.
"These were stock Prowlers except for the required roll-cage, extra night lights, King shocks and tires," says Creagan. "Nothing broke on either machine during the race and we had only one flat tire on the 700. Our support crew never even had to put a tool to either machine. It was just gas-and-go at the pit stops, which is a testament to their durability and performance."
The fifth-place in Class 25 Pro ATV by Reid Rutherford, Ben Vernadikis and Tony Valerio aboard a stock Thundercat 1000 H2 EFI was equally compelling. It was the first time an Arctic Cat ATV attempted the Baja 1000, competing against and beating all but four modified racing models.
Published December 3rd, 2008 3:22 PM
Top Brands
Popular Articles