1 View
ATV Safety Institute Launches Online Courses
June 25th, 2009 4:35 PM
Share
E-Learning courses designed for adults, teens and youth riders
The ATV Safety Institute has launched a group of free interactive online safety courses on its Web site. The goal of the courses is to enhance the total learning experience for all-terrain vehicle enthusiasts so that they can enjoy safe, fun-filled riding experiences.
The ASI ATV Safety Online courses are custom designed for each specific adult, teen (12-15 years old) and youth (6-11 years old) audience. The adult e-course also includes tips and advice for parents and guardians to coach and supervise youth throughout their ongoing learning process.
"With a simple keystroke ATV enthusiasts can interact with our online courses in preparation to taking one of our half-day, hands-on ATV RiderCourses. Or they can use the e-courses to refresh what they learned during a RiderCourse they may have taken recently or even years ago," says Paul Vitrano, executive vice president, ASI. "Our focus is on offering a total learning experience to help achieve rider safety for young and old, experienced and inexperienced riders, and we realize how critical a role the internet plays in the educational process for most Americans today."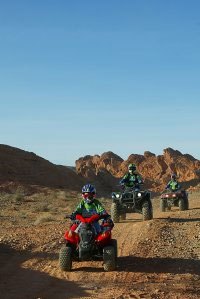 Vitrano cited the recently released 2008 Motorcycle Industry Council Study that revealed a sharp increase in Internet usage among ATV owners and riders. This significant shift in computer use provided valuable insight and strong support toward ASI developing more safety educational opportunities online.
According to the ASI, each self-paced ATV Safety Online course generally runs about two hours and focuses on the fundamentals of the ATV itself and riding, with an emphasis on risk management and avoidance. The online courses include real-riding-experience videos from a rider's point of view, animation, and interactive learning exercises and quizzes to self-test knowledge gained. Users can bookmark the courses for easy return access.
"The youth e-course has features that make learning fun and interesting and keeps kids engaged, but it's also designed so that parents supervise and participate in the online experience, just like we emphasize when they actually ride together," says Vitrano.
To engage teenagers and children 6 to 11 years of age even more, the ASI e-courses are introduced by avid ATV riders Christopher and Kyle Massey, stars of the Disney Channel TV shows "Zoey 101," "That's So Raven" and "Cory in the House." Their mother, Angel Massey, implores parents and guardians in the adult e-course to supervise their children while riding, as she does when riding with Christopher and Kyle.
The ASI online safety courses were designed in conjunction with CraneMorley and the current beta versions have won three international awards within the creative industry.
The ATV Safety Institute's Golden Rules:
1. Always wear a helmet and other protective gear.
2. Never ride on public roads – another vehicle could hit you.
3. Never ride under the influence of alcohol or other drugs.
4. Never carry a passenger on a single-rider vehicle.
5. Ride an ATV that's right for your age.
6. Supervise riders younger than 16; ATVs are not toys.
7. Ride only on designated trails and at a safe speed.
8. Take an ATV RiderCourseSM
Published June 25th, 2009 4:35 PM
Top Brands
Popular Articles