1 View
Blais Racing Services July Race Report
July 29th, 2010 10:48 AM
Share
Blais Racing Services July race report
This was my second quad race and second time racing at night. I teamed up with Patty Blais once again on her 2006 Honda TRX450 ATV as race number
The course was laid out by the Bushwhackers MC and was about 21 miles long. The race started at 9pm. We had a full moon and it was hot out there; around 112 degrees during the day and 85 degrees at night.
Patty would once again get a great start off the line and took the holeshot. Each lap would take us approximately 45 minutes. After her first lap, Patty came into the pits running in 2nd overall. She did not have any problems out there and she was running great. Now it was my turn to hop on the quad. I headed down pit row and out onto the course and to my surprise, just after the first turn, there were about two miles of VW-sized whoops. After that, the course snaked through the tight bushes and was a lot of fun. About a mile or two into my lap, I passed the first place quad team. After this really smooth and fun winding section, guess what, more VW size whoops! These whoops were making my arms go numb. This is where my good friend Justin Shultz with PDI Racing passed me. He had come out there with us and teamed up with Jaybird from Jackrabbits Nevada MC on his bike team. The whoop section was just long enough to do a serious number on my arms, but just when I thought I couldn't take this anymore it opened up to a long 5th gear pinned flat road. I had no dust in front of me so I was pinned the whole way.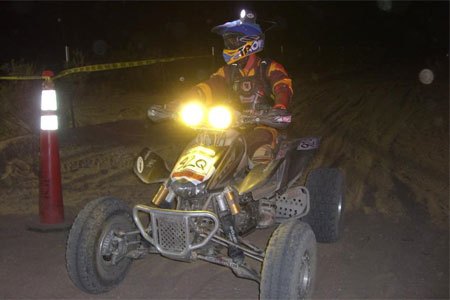 Patty and I would continue on that whole night without any problems with her quad, lap after lap after lap. With no crashes and no downtime we put a huge lead on the other quads and held it all night, as a matter of fact the second place quad came in about 40 minutes behind us. We got in three laps each for a total of about 120 miles. So at the end of the night, Patty and I finished 1st Overall ATV and 18th Overall out of 44 bike and quad teams.
Thank you Patty for asking me to team up with you again, and thank you Blais Racing, PDI Racing, and Baja Designs!
For our next race we are heading to the Whiplash Cinders race on August 7. I will be racing my Polaris RZR in the Pro UTV class on Saturday and Morgan is racing the Pro Bike Class on Sunday.
Published July 29th, 2010 10:48 AM
Top Brands
Popular Articles