1 View
Borich Tries to Stay on Top of GNCC Points Standings
June 3rd, 2009 4:24 PM
Share
McGill and Kiser close on his heels
Rockstar/Makita Suzuki rider Chris Borich is on the top of the points standings after winning four of the first seven Can-Am Grand National Cross Country Series races. Round 8 takes place this weekend at the Wiseco John Penton GNCC in Milfield, Ohio.

Despite Borich's impressive start to the season, he leads the GNCC standings by just 12 points, and FRE KTM's Adam McGill and Yamaha's Taylor Kiser are within striking distance.
Borich and McGill duked it out at the previous race, the Mountain Ridge GNCC, in a tense final lap. McGill led the pack alone through most of the race until Borich started closing in on him, shaving off seconds on each lap. On the last lap, Borich out-dueled McGill, handing McGill yet another close second-place finish.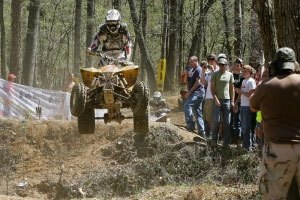 While McGill is second in the points, a win remains elusive for the charismatic rider. Each race sees him coming within seconds of leading the pack only to have someone overtake him. Even Kiser would have won the Titan GNCC if he hadn't lost positions for straying away from the track. Kiser won in the first round in Florida but has stayed around 3rd to 5th place in the remaining races.
Besides Borich and Kiser, the only other riders with a victory this season are defending champion Bill Ballance and Bryan Cook, both of whom are looking for a follow-up performance.
Though wins are hard to come by, many riders are posting consistent finishes. McGill has finished on the podium in six of seven, while Kiser has been in the top-three three times. Kiser's Yamaha teammate Brandon Sommers has also had consistent finishes lately, landing on the podium the last three races and taking over fourth in the points standings. Cook and Ballance are within one point of each other battling for the fifth and sixth places. Ballance won the Penton last year, and needs to find that magic again to close in on his tenth GNCC Championship.
In the XC2 Pro-Am class, Brian Wolfe and Josh Kirkland have been the duo to watch as they battle week in and week out for their championship. Perhaps some of the most exciting XC2 action in a few years, they are only separated by four points and are the only two to have won a race thus far in the season.
The legendary John Penton track may hold a few surprises for the riders to shake up the points standings. The Sunday Creek Raceway motocross track features a nice mix of fast trails with some fresh, tight stuff thrown in, and the motocross track makes for a good place to make passes.
Published June 3rd, 2009 4:24 PM
Top Brands
Popular Articles