1 View
BRP Begins Production at ATV Plant in Mexico
November 2nd, 2007 1:50 PM
Share
New facility to produce 85% of Can-Am brand ATVs by 2009
Bombardier Recreational Products Inc. (BRP) of Valcourt, Que. has officially opened its ATV manufacturing and assembling plant in Juarez, Mexico.
New ATVs are already rolling off the line at the Mexican plant, which saw an investment of C$35 million from BRP.
"It's not fully operational yet in terms of transferring total production, but we're doing well," BRP vice president, communications and public affairs Pierre Pichette told ATV.com. "We're on schedule and things are moving."
"I am pleased with what has been accomplished so far. In a very short period of time we've moved into a new facility, hired and trained our employees, and were able to start production on time, within budget and with the quality that is synonymous to any BRP product," says José Boisjoli, president and CEO, BRP. "By 2009, we expect that 85% of the Can-Am ATV production sold by BRP around the world will be manufactured here."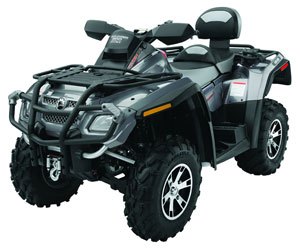 The facility, which employs more than 760 people, will assemble the Can-Am ATV Outlander and Renegade lines. The DS line will continue to be built in Valcourt, Que., which used to assemble all the ATV lines.
BRP told its Valcourt employees in 2005 that it was transferring the ATV vehicle assembly to Mexico and the company expected about 300 people would lose their jobs, but that outlook has changed considerably.
"We are fairly positive with the start of production of the Can-Am Spyder roadster we will not have to let anybody go," says Pichette.
Along with ATV assembly, the Juarez, Mexico plant is also putting together the Rotax engines for the ATVs. It is the first time Rotax engines are being manufactured outside of Austria and the first time BRP engines and units are being assembled in the same facility.
At this time BRP isn't planning to move any more of its engine assembly away from Austria.
"We will look at things one-by-one, but we have no intention to make this a rule going forward," says Pichette. "Let's look at the plant as it is now. This is an ATV decision. It's part of the ATV strategy."
With the new plant dealing with both vehicle and engine assembly, BRP faces new challenges and the company has brought in employees from other regions to help ramp up production.
"There are plenty of people from Austria and Canada to do the transition and we'll see going forward how we're going to go about on the long-term basis how to manage all of the operations," says Pichette. "But there are at this time Canadians, Austrians, Americans and Mexicans at the plant in management."
The ATV plant is not BRP's first experience in Mexico. The company bought Outboard Marine Corp. in 2001, which manufactures Johnson and Evinrude engines, and that company had a plant in Mexico that BRP continued to operate.
"The plant was manufacturing components for outboard engines and we had them build engines and we had them build personal watercraft," says Pichette. "After studying all our facilities and the new ATV strategy, we decided the plant in Mexico would be the best place to build them."
Published November 2nd, 2007 1:50 PM
Top Brands
Popular Articles