1 View
Byrd is Back in Winner's Circle
April 28th, 2008 4:16 PM
Share
Rides Honda to two moto victories in Virginia
Two-time and defending champion Joe Byrd swept both motos to win the TriangleCycles.com ATV National at Birch Creek Motorsports on April 27.
The victory was the first of the season for Honda's Byrd in the fourth round of the 2008 ITP Tires/Moose Racing AMA/ATVA Pro Championshp. This is the first time a Suzuki quad didn't finish the weekend on top of the podium.
In the first moto, Byrd traded the lead once with Suzuki's Dustin Wimmer before taking the checkered flag. Wimmer crossed the finish line in second, followed by East Coast ATV's Jason Dunkelberger.
"In the first moto, I rode steady and didn't take any chances," says Wimmer. "It's a narrow track and hard to pass cleanly on."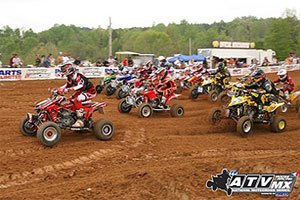 Byrd flew past the field in the second moto and won easily. Wimmer again finished second, while Honda's Josh Upperman finished third.
"This track really worked for me this weekend," says Byrd "We've been working hard this season, and we're going to keep doing what we're doing. The early part of the year was difficult; hopefully this is a sign of things to come.
"This will definitely build momentum going into the next race. More importantly, it will raise the morale in the Byrd compound, making all of those 18-hour shifts meaningful."
With the victory, Byrd moves up four positions to third in points, 59 markers behind Wimmer. Suzuki's Doug Gust is second in the title chase, while Can-Am's John Natalie and Kawasaki's Josh Creamer are fourth and fifth, respectively.
Creamer set the fastest time in final qualifying, winning the Ti Fuel Fast Qualifier Award. Byrd won the Holeshot Awards for both motos.
Both Natalie and Suzuki's Chad Wienen were suffering the after effects of injuries sustained prior to the weekend. Natalie has an infection in his left eye, and Wienen was involved in an accident last week while training for this event, which left him with a sore shoulder. Interestingly, the two made contact in the first moto and Wienen ended up with the worst of the incident, going off in one of the track's uphill sections. Neither rider was seriously injured in the tangle.
More than 650 riders competed over the course of the weekend in 34 classes, with 26 riders representing the Pro class.
The next race for the ITP Tires/Moose Racing AMA/ATVA Championship is scheduled for May 10 to 11 at Sunset Ridge MX in Walnut, Ill.
AMA ATV Motocross Round 3 Results:
| | | | |
| --- | --- | --- | --- |
| Position | Rider | Manufacturer | Moto Results |
| 1. | Joe Byrd | Honda | 1 – 1 |
| 2. | Dustin Wimmer | Suzuki 2-2 | 6 – 3 |
| 3. | Jason Dunkelberger | Honda | 3 – 8 |
| 4. | Doug Gust | Suzuki | 4 – 7 |
| 5. | Jeremy Lawson | Can-Am | 6 – 5 |
Championship Points Leaders:
| | | | |
| --- | --- | --- | --- |
| Position | Rider | Manufacturer | Points |
| 1. | Dustin Wimmer | Suzuki | 178 |
| 2. | Doug Gust | Suzuki | 145 |
| 3. | Joe Byrd | Honda | 119 |
| 4. | John Natalie | Can-Am | 113 |
| 5. | Josh Creamer | Kawasaki | 104 |
Related Reading:
Gust snaps Wimmer's streak in Kentucky
Published April 28th, 2008 4:16 PM
Top Brands
Popular Articles