1 View
Can-Am Earns Three 4×4 Wins
March 10th, 2009 2:15 PM
Share
Can-Am Outlander ATVs sweep GNCC 4x4 classes
Can-Am ATV racers had a successful weekend with top-10 finishes and wins in the Can-Am Grand National Cross Country, ITP/Moose Racing AMA ATV Motocross Championship presented by Parts Unlimited and ITP Quadcross series.
"This past race weekend is when the 2009 ATV racing season begins in earnest for everyone," says Del Bohlman, racing manager for Can-Am ATVs at BRP. "And with our success across the board during the weekend, it is safe to say we are ready to bring BRP more championships this season and start where we left off in 2008. All of our racers, teams and staff are ready to go and cannot wait for the next rounds of racing."
Can-Am Outlander ATVs swept the 4×4 classes in the second round of GNCC racing in Georgia. Bryan Buckhannon, Michael Swift and Cliff Beasley; each won the 4×4 Open, 4×4 Limited and 4×4 Lites classes respectively. Jamie Bithell, who races for the Can-Am X-team, took second in the competitive College A (16-21) class on his DS 450. A Renegade 800R ridden by Team Warnert Racing/Can-Am pilot Rick Cecco won the U2 class after taking the holeshot against the rest of the class.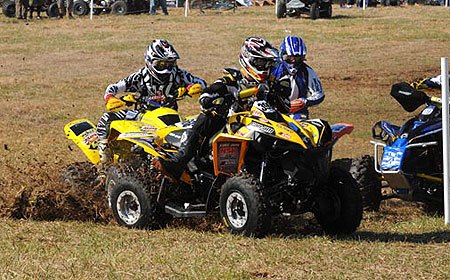 The ITP Quadcross opening round of the 2009 season was completely dominated by the Can-Am DS 450. Team Motoworks/Can-Am racer Jermie Warnia was on the warpath against the rest of the Pro field. In the 450 Pro class he took the holeshot in the main and maintained a lead throughout the race. He did the same in the Open Pro class, taking the holeshot and never relinquishing the lead. Warnia's teammate, Dillion Zimmerman, was victorious in the amateur 4-Stroke Expert class on his DS 450.
For the AMA ATV Motocross Championship, Can-Am racers worked hard throughout the weekend and are prepping for the second round to build on the two top-10, Pro-class finishes by Team Warnert Racing/Can-Am rider John Natalie and Team Motoworks/Can-Am racer Jeremy Lawson.
For more information of Can-Am racing, the 2009 contingency program and amateur DS 450 support program, visit www.can-amxteam.com.
Published March 10th, 2009 2:15 PM
Top Brands
Popular Articles