1 View
Cody Grant Named AMA ATV Rookie of the Year
September 22nd, 2010 2:11 PM
Share
Yoshimura rider finished 11th in Pro class standings
Yoshimura racer Cody Grant has taken home the 2010 AMA ATV Motocross Rookie of the Year award.
Grant was given the award at the annual awards banquet at the Pala Casino in Pala, Calif. in celebration of his performance during his first season of racing in the Pro class.
"The first season is always a tough one, but Yoshimura helped me out a lot this year," says Grant. "Their engines are the best, and their trackside support was great. Any problem I had, they were right there to help."
Yoshimura's Kory Ellis extended his congratulations to Cody on behalf of the company.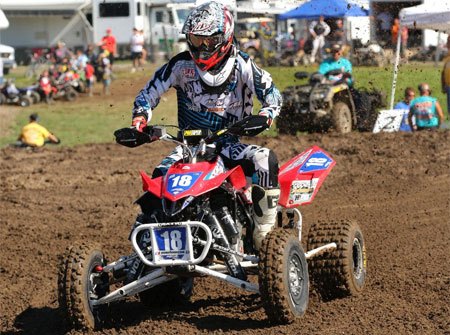 "Yoshimura is really happy to have supported Cody the last two years," says Ellis. "We're proud to see him move up to the Pro class and win the rookie of the year award, and hope to have continued success with him."
Grant finished 11th overall in the 2010 AMA ATV Motocross series, and he broke into the top 10 four times during the season. With his rookie season now complete, the Kentucky native has returned to his home to help his family on their farm. Racing is never far from his mind however, as he continues to train and improve his skills for next season.
Published September 22nd, 2010 2:11 PM