1 View
Congress Passes Bill to Set ATV Safety Standards
August 5th, 2008 11:03 AM
Share
Domestic manufacturers applaud new provision
Congress has approved a provision that requires all companies that sell or import ATVs in the U.S. to meet the same safety standards that American-based manufacturers follow.
The provision was included with the Consumer Product Safety Improvement Act of 2008 which was passed by the House of Representatives June 30. The provision was first introduced Nov. 18 by Senator Norm Coleman (R-MN) and co-sponsored by Senators Mark Dayton (D-MN) and Mike DeWine (R-OH).
The major U.S. manufacturers have followed voluntary safety standards established by the American National Standards Institute (ANSI) which set speed restrictions on youth ATVs as well as appropriate configuration and performance aspects of ATVs. The domestic manufacturers also support training programs and promote the use of helmets and other protective gear.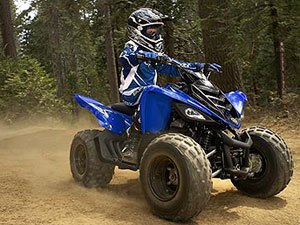 "These standards and programs are vital to ensure the safety of American ATV riders," says Ed Krenik, spokesperson for the Coalition for Safe and Responsible ATV Use which is comprised of Bombardier Recreational Products, Honda, Kawasaki, Polaris, Suzuki and Yamaha.
In recent years, new ATV manufacturers have started to gain ground with the U.S. market with machines marketed towards younger riders. These new companies did not comply with the ANSI standards.
"Many non-traditional ATVs do not adhere to even minimal safety requirements, nor do the companies provide training or safety information," says Krenik. "The poor quality of many of these ATVs creates a danger for all ATV riders, particularly young riders, who are being targeted by these companies.
"The big winners in this legislation are American consumers, who can be assured that any new ATV they buy in the U.S. will adhere to the safety standards and training programs developed over the past 20 years," says Krenik.
Published August 5th, 2008 11:03 AM
Top Brands
Popular Articles