1 View
HCR Racing Releases Teryx Long Travel Kits
October 5th, 2009 3:29 PM
Share
Kit adds 12 in. of width provides 14 in. of wheel travel
HCR Racing announced the release of its latest Kawasaki Teryx long travel kit on Oct. 5, 2009.
"The quality fit and finish, ease of installation, and top shelf performance of their kits are what sets [HCR Racing] apart from the competition," the company says in a release.
According to HCR Racing, none of its kits are released to the public without hours and hours of vigorous testing in the rocks, desert, and dunes just like consumer intends to use it. Not only this, HCR Racing custom tunes every shock package in-house to make sure the shock valving and spring rates are perfectly mated to the UTV it's designed for. HCR Racing says this is why its long travel kits offer the best ride quality in the business.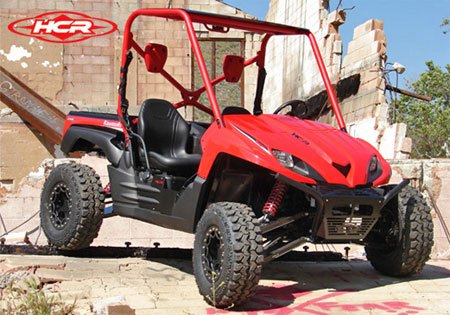 HCR Racing Kawasaki Teryx Long Travel Kit Includes:
• Custom Tuned King 2.0 Reservoir Shocks/Black or traditional blue for best color match
• Summers Brother's Racing 4340 Axles
• Laser Cut for precise fit and finish
• CNC'd Chromoly construction mounting points
• Boxed design and Hand Tig Welded for strength and appearance
• OEM ball joints to maximize low speed steering & travel with less maintenance
• Complete kit 100% Proudly Made in the U.S.A.
• 100% Bolt-on installation using factory mounting points
• 6″ wider per side for maximum travel and stability
• 2″ longer wheelbase for better high speed stability hill climbing and descents
• Achieves 14″+ wheel travel for the ultimate ride quality and articulation
HCR Racing's Kawasaki Teryx long travel kit retails for $5,399. For more information, visit HCRRacing.com.
Published October 5th, 2009 3:29 PM