1 View
Jagged X Wins Best in the Desert Series
January 12th, 2010 5:01 PM
Share
Ranger RZR earns victory at Parker 250
Coming off its third Best in the Desert Championship for the 2009 season, Jagged X started 2010 with a bang, taking the checkered flag at "Epic Racing Products Parker 250."
The starting line was crowded with 17 side-by-sides lined up with the Jagged X No. 1919 Ranger RZR starting in fifth position. Fighting the early morning sun and thick dust Brandon Schueler was able to work his way to the front of the pack and hold off the huge field to cross the finish line first, more than four minutes ahead of the next racer. Ranger RZRs dominated the field finishing first, third, fourth, fifth and sixth.
"This race marked the 21st consecutive finish for Jagged X and Polaris proving once again that Ranger RZR is the hardest working, smoothest riding and hardest racing side-by-sides in the world," says Bill Schueler of Jagged X. "We want to thank all the people and sponsors that help us to make our racing program what it is."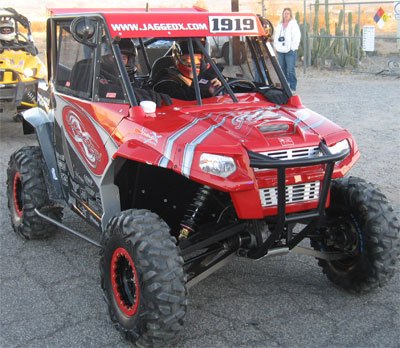 Jagged X is sponsored by: Polaris Industries, Mountain States Contracting, Elka Suspension, CR Designs, S&S Off Road, Simpson Products, ATL Fuel Systems, Tire Balls, MTA, Vision X Off Road, OMF Performance, Affordable Powder Coat, Robby Gordon Off Road, Trophy Engineering, Fullbore Innovations.
Related Reading
Jagged X wins Best in the Desert Championship
2010 Polaris Ranger RZR 4 Preview
2009 Polaris Ranger RZR S Review
2008 Polaris Ranger RZR Review
Published January 12th, 2010 5:01 PM