1 View
Jagged X Wins King of the Hammers UTV Class
February 16th, 2011 2:47 PM
Share
Win comes on nearly Stock Polaris Ranger RZR XP 900
After three years of racing King of the Hammers, the Jagged X team won the side-by-side class with the new and nearly-stock Polaris Ranger RZR XP 900.
Since its original debut in 2008, the King of the Hammers race has been deemed the toughest off-road race in the world. The course is a 42-mile combination of open desert racing, narrow goat trails and huge rock trails. For the last two years, the Jagged X team raced its desert race car and while they were in the hunt, the heavier full-blown race car came up just short of the win. This year, the team took a little different approach and raced the new and nearly-stock RZR XP. The unit was modified only to comply with the safety requirements and equipped with a set of Elka Elite series shocks.
With the temperature hovering in the low 20s, the Jagged X team lined up in the tenth starting position with seventeen other side-by-sides. When the flag dropped, Brandon Schueler and co-driver Mike West charged off into the California desert with a group of very-well equipped competitors. The RZR XP reeled in the rest of the field and by the first rock trail the team was running in third position. Shortly after, the only car between the No. 1919 and the finish line was the two-time winner Mitch Guthrie, also driving an almost-stock Ranger RZR 800. The two were separated by only a few feet for the next 15 miles but then in the last major rock section, known as Aftershock, Schueler was able to squeeze by and capture the lead. The two swapped the lead again in the bottom of the canyon but when the dust cleared, Jagged X came out ahead by nearly five minutes ahead of Guthrie, and the rest of the field was nearly an hour back.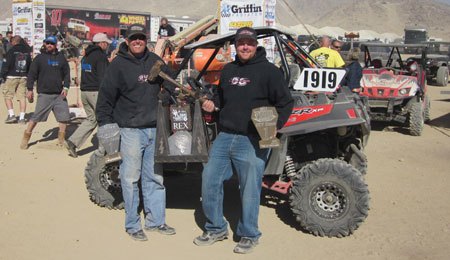 "The new Ranger RZR XP 900 proved once again that Polaris is the only manufacturer to build a car that offers the power, suspension and agility to win one of the toughest races in the world," says Brandon Schueler. "Jagged X would like to thank everyone who helped us to take the crown and become the KING of the HAMMERS!"
The Jagged X team would like to thank its sponsors: Polaris Industries, Elka Suspension, Pro Armor, Simpson safety equipment, CR Designs, OMF Performance and Renegade Seats.
Related Reading
2011 Polaris Ranger RZR XP 900 Review
Published February 16th, 2011 2:47 PM
Top Brands
Popular Articles