1 View
John Deere launches high-performance Gator XUVs
June 17th, 2010 12:18 PM
Share
Higher speeds and more recreation for John Deere XUVs
John Deere recently unleashed its most performance-driven Gator utility vehicles yet. Targeted toward the true outdoor adventurist, the 2011 lineup of Crossover Utility Vehicles (XUV) is packed with advanced features that deliver an unparalleled balance between work and recreation.
"Headlining the 2011 XUV models will be the brand new Gator XUV 825i – the fastest and most powerful Gator ever produced," says David Gigandet, tactical marketing manager, utility vehicles. "Anyone with a sense of adventure and a love of the outdoors will enjoy putting its best-in-class advanced engine system to the test."
Boasting 50 HP, it is the highest-powered engine in its class with superior low-end torque for taking on even the toughest tasks, trails, and terrain. Horsepower is delivered by an 815cc, liquid cooled, inline 3-cylinder engine featuring 4 valves per cylinder, dual overhead cams and electronic fuel injection.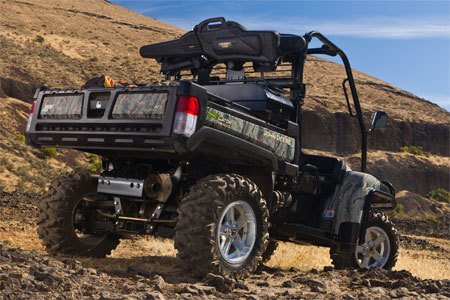 "And, the 825i can travel at speeds up to 44 mph," says Gigandet. "This is the fastest Gator we've ever built and this is an example of the commitment we've made to provide top-of-the-line XUVs for the outdoor enthusiast."
All the new Gator XUV models have a completely re-designed front and rear independent suspension system that delivers a superior ride through rough terrain. The new models are designed for less body roll and superior side-hill stability with either no-load or maximum cargo. Also, all the models sport an entirely new braking system that improves stopping performance over previous models.
"John Deere has a long heritage in the utility vehicle category with the Gator as a tried and true workhorse," says Gigandet. "With the introduction of the 2011 XUV, the new Gator line-up now delivers the innovation and top performance consumers desire, as well as the best in class utility, reliability and quality we're known for."
The Gator XUV also features 1,500 pounds of towing and 1,400 pounds of payload capacity. The all-new hybrid metal and composite cargo box offers 16.4 cubic feet of capacity, the most in its class, and an available factory installed spray-in bed liner with 20 integrated tie downs to help keep cargo in place. The sides of this cargo box are removable as well, giving the user a flat bed that's easy to load and unload from any side.
All Gator XUV models are available in one of three different finishes: olive and black, Realtree Hardwoods HD Camo or traditional John Deere green and yellow. All models are available exclusively through the John Deere dealer network and on http://www.johndeere.com/.
In addition to the XUV 825i, John Deere also offers the 625i and the 855D to round out its full line of crossover utility vehicles. Here are the basic specifications for those two models:
Gator XUV 625i
* Gas EFI
* 617cc, liquid cooled V-twin engine
* 23 HP engine
* 30 mph top speed
Gator XUV 855D
* Diesel
* 854cc, liquid cooled 3 cylinder engine
* 25 HP
* 35 mph top speed
* Now with full clutch enclosure
Published June 17th, 2010 12:18 PM
Top Brands
Popular Articles