1 View
January 15th, 2008 12:10 PM
Share
OEM offers almost $170,000 to ATV racers
Kawasaki riders on the Can-Am Grand National Cross Country Series will have a lot to race for in 2008.
Kawasaki Motors Corp. USA of Irvine, Calif. is offering more than $500,000 in 2008 contingency monies, with $168,900 of that earmarked for ATV racers in the 13-round series. Those racing on two wheels will be fighting for $343,100.
In November 2007, Kawasaki announced that it would be increasing its overall ATV contingency money to $800,000 this year, up from $548,000 in 2007.
"We're excited to again partner with the GNCC in 2008," says Kawasaki contingency coordinator Sue Graff. "GNCC pits the best of the best against each other on both bikes and ATVs on some of the most challenging race venues in North America, and we're pleased to be a part of that."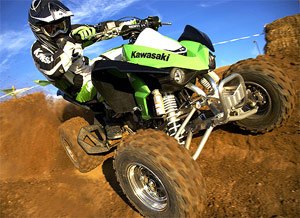 The contingency program is not just for Kawasaki sponsored riders—it is open to anyone who rides a Kawasaki ATV.
The 2008 GNCC season begins on March 1 to 4 at the Triton in Melbourne, Fla.
Related Reading
Published January 15th, 2008 12:10 PM