1 View
Kawasaki Makes Push in WPSA Series
January 30th, 2008 2:15 PM
Share
Three-racer team to run WPSA SuperQuad Pro 450 class
Kawasaki is pulling out all the stops to win in 2008 on the World PowerSports Association (WPSA) ATV Tour.
"We are thrilled that Kawasaki is making a big push for the SuperQuad Pro 450 Championship," says WPSA CEO Rick Murphy.
Monster Energy Kawasaki will be fielding a three-racer team in the Pro class.
"Last season, their KFX450R was relatively new to them so I would expect their equipment to be very competitive this season," says Murphy. "I sense that everyone on their racing staff and all their racers are dedicated to winning in the upcoming season, so this is going to be one heck of an exciting chase for the championship."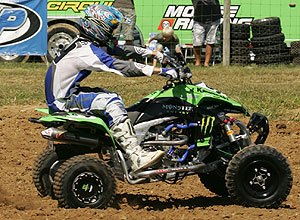 Josh Creamer, who finished sixth in the points standings last year, will return to lead the way for Monster Energy Kawasaki. Keith Little and Russell Shumaker will be joining Creamer on Team Green for the upcoming season, which opens the weekend of May 3 and 4 in Alvord, Tex.
"Last year, our factory team had a pretty good start and with the addition of Keith and Russell, I really think we have the full package of experience and young enthusiasm," says Team Green manager Reid Nordin.
As a part of the expansion in the WPSA series, Kawasaki has brought in a satellite team with the help of Hetrick Gabriel Racing.
Trent Kendal will compete in the SuperQuad Pro 450 class as part of the satellite team, while Mark Kendall will do battle in the SuperQuad ProAm class.
"We see the Kawasaki 'Triple Threat Pros' commitment to the PowerSports ATV Championship Tour as a real badge of honor," says vice-president of PowerSports Entertainment Kent Lungstrom. "We know this is an expensive endeavor for Kawasaki to commit these top Pro riders to our series, and we truly appreciate their faith in our organization."
Related Reading
:
2008 Kawasaki KFX450R
Published January 30th, 2008 2:15 PM
Top Brands
Popular Articles