1 View
Marois Sweeps Rock Maple Pro Classes
August 13th, 2008 12:22 PM
Share
New Hampshire rider dominates at New England Dragway
New Hampshire native Luke Marois put on a show in his home state, sweeping the Pro class finals in Round 7 of the 2008 Can-Am Rock Maple Racing Series at the New England Dragway in Epping, NH on Aug. 9.
This was the second home-state sweep in three events for Marois, as the 19-year-old also prevailed in Round 5 at the River's Edge ATV Park in Canaan, NH. Marois held off rival Brian Daigle and Mike Taylor for top honors in Pro Am Unlimited and completed the sweep with a convincing win in Pro Unlimited.
Taylor found redemption in the A Unlimited final, besting Aaron Blouin and Steffan Dager for top honors. Brad Burbine powered his Honda to victory in the B Unlimited class, with Michael Gustus second on a Yamaha. Justin Chamberland claimed the Open Amateur final over Charles Sawyer and Dale Robinson.
Robinson picked up a victory of his own in an exciting Production Lites final. Honda machines swept the podium as Curtis Gillilan and Chamberland finished second and third. Andrew Ruel posted his sixth win of the season in C Unlimited action. The 14-year-old Ruel held off Glynn Desilva and Josh Bennett.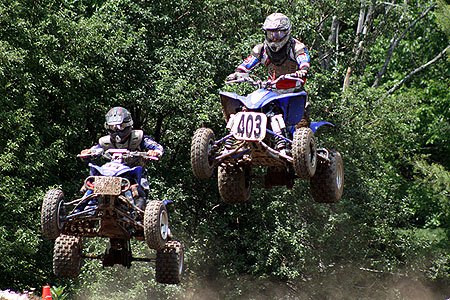 Also picking up wins in the MX classes were Colin Lancaster (Plus 35); Jill Walsh (Women Unlimited); Alex Parker (0-90cc Modified); Brittany Soucy (0-90cc Limited); Jake Chamberland (0-90cc Unlimited); Caleb Conners (0-70cc Modified); and Kolton Gillilan (0-50cc Senior and Junior).
Next up on the 2008 Can-Am series schedule is Round 8 on Sunday, Sept. 7, at Twister Valley in Fort Plain, NY. Visit http://www.rockmaple.com/ for more information.
Published August 13th, 2008 12:22 PM