1 View
Matlock Racing Preparing for San Felipe 250
March 3rd, 2010 1:26 PM
Share
First round of SCORE desert racing series begins March 13
The Matlock Racing team is prepared to head south to Baja once again and will be riding to defend its San Felipe Overall win title for the third consecutive year on March 13.
Fresh off an Overall win at the 2009 Tecate SCORE Baja 1000, the team is eager to get the 2010 SCORE season started off right. This year's team will consist of Wayne Matlock, Josh Caster and Wes Miller aboard the Matlock Racing Honda TRX700XX. Matlock and Caster are part of last year's San Felipe winning team while this will be Miller's first San Felipe race.
With the race prep by Rich Morel racing motors and the Matlock Racing team, the race quad is ready for the extremely rough deserts of San Felipe, Baja. Each member of the team is excited to begin prerunning their sections of the course and ready themselves for the tough competition and course conditions they will face on race day.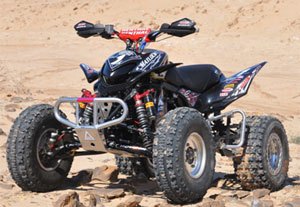 With over 275 entries at this year's race the competition should be fierce. The race course's 248 miles will cover some of the roughest terrain Baja has to offer including some very infamous Baja racing locations, names like Matomi, Huatamote and Chanate washes, Zoo Road, Old Puertecitos Road and Diablo Dry Lake. These locations will test the racers as they work to lead the pack and cross the finish line first under the famous arches in San Felipe.
The Matlock Racing quad will start first off the line and will be working hard to gain time on the competition from the drop of the green flag all the way to the crossing of the finish line and the checkered flag.
For more information on Matlock Racing, visit MatlockRacing-Honda.com.
Matlock Racing would like to thank all its sponsors: Vey's Powersports, PRM-ATV.com, Rich Morel Racing Motors, Precision Concepts, Houser Racing, Maxxis, Elka, JCR Honda, Big Gun Exhaust, KZ Trailers, Fly Racing, Renthal, IMS-Roll, Pro Honda Oil and Chemicals, IMS, DWT, OMF, Tire Balls, Quadtech, Streamline, Precision Racing Products, Baja Designs, Scott Goggles, Motion Pro, UNI Filters, DID Chains, Division Four
Related Reading
Matlock Racing wins Pro ATV title at Baja 1000
American Honda wins Tecate Score San Felipe 250
2008 Honda TRX700XX Review
Published March 3rd, 2010 1:26 PM
Top Brands
Popular Articles