1 View
New Lead-content Law Could Affect Youth ATVs
February 2nd, 2009 1:57 PM
Share
OHV users urged to contact CPSC
A new law regulating lead content in certain products will go into effect on Feb. 10, 2009. This could affect companies that manufacture or distribute youth model ATVs, off-highway motorcycles, and parts and accessories for those vehicles.
The Specialty Vehicle Institute of America (SVIA) and the Motorcycle Industry Council (MIC) have urgently requested the Consumer Product Safety Commission (CPSC) and federal legislators to take a common sense approach to implementation of the Consumer Product Safety Improvement Act's lead provisions.
"SVIA and MIC applaud Congress for taking an important step in protecting children from those products that truly present a lead risk," says Paul Vitrano, executive vice president and general counsel, SVIA. "However, there should be common-sense procedures for exclusions of parts, such as brakes, engines and suspensions that do not present risk to children in the real world.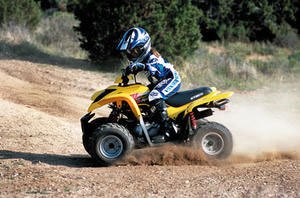 "Some ATV and motorcycle parts unavoidably contain small quantities of lead. Lead in these components is necessary, either for safety, as in the case facilitating the machining of tire valves, critical to assuring tire air retention, or for functionality, such as the lead in battery terminals, which is needed to conduct electricity."
SVIA and MIC have announced their intention to join several of their member companies in filing petitions with the CPSC for emergency relief from the provisions. They are seeking a temporary final rule to exempt ATV and motorcycle parts in order to avoid major disruptions to enthusiasts, to the member companies' businesses, and to the companies' dealer network of thousands of small, independent businesses which employ tens of thousands of Americans.
The petitions for exclusion will request exemptions based on existing European Union studies and analogous exemptions for lead in components of motorized vehicles and motorcycles.
OHV users are asked to contact the CPSC and their elected officials to voice their concerns. You can visit the CPSC Comment Page at http://www.cpsc.gov/cgibin/info.aspx to voice any concerns you may have with the new law.
Published February 2nd, 2009 1:57 PM
Top Brands
Popular Articles