1 View
New Wheels and Tires From Raceline Wheel
September 29th, 2010 11:32 AM
Share
Spyder wheel and MT tire highlight new lineup
Raceline Wheel has rolled out a new line of ATV and UTV wheels and tires.
"We are really excited to introduce the Monster and Spyder wheels alongside the Raceline MT tire," says Jason Divis, UTV/ATV category manager for Raceline Motorsports.
The most recent addition to the Raceline lineup is the sleek, all black, Spyder wheel. Raceline designed the Spyder to look more like a truck wheel than one you would normally find on an ATV or UTV. According to Raceline, the strength and durability behind all its wheels is matched to the same quality that a one-ton truck would utilize.
Raceline has also released its new all terrain MT tire. The MT tire is available in multiple sizes, including a 30-inch monster that is not considered a mud tire, but a true all-purpose tire.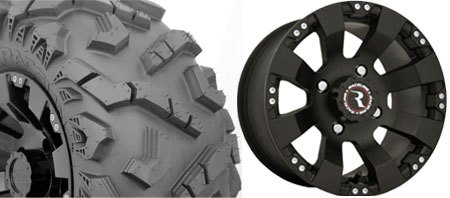 "What's unique about our tires is there is actually a step which helps you with your traction, especially in mud," says Divis. "On the East Coast, it is really popular for the rock crawling scene, people are starting to rock crawl with their UTV's and this is the tire for this person."
Raceline wheels and tires are available at Discount Tires Direct. For more information, visit RacelineWheels.c om.
Published September 29th, 2010 11:32 AM