1 View
Polaris and Bobcat Announce Long-term Alliance
March 2nd, 2009 12:10 PM
Share
Polaris to produce and sell work vehicles to Bobcat
Polaris Industries Inc and Bobcat Company have announced a long-term strategic alliance. According to Polaris, this alliance is designed to help both companies penetrate work-related market segments globally.
"We are excited to enter this alliance with Bobcat, a respected leader in the work vehicle industry," says Scott Wine, CEO of Polaris Industries. "This alliance is consistent with our stated strategy of diversifying Polaris beyond our core powersports segments and will enhance our efforts to accelerate the growth of our military and international businesses.
Wine says that Polaris will produce and sell 'highly differentiated' work vehicles to Bobcat, who will sell those vehicles through its dealer network. The two companies will further cooperate by developing vehicles together and sharing technology in the future.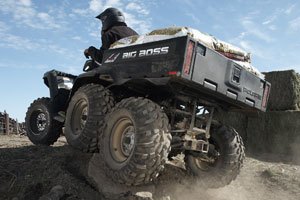 "We are thrilled about the long-term implications of this alliance," says Richard Goldsbury, president of Bobcat Americas. "Bobcat's and Polaris' long tradition of innovation, product passion, and similar cultures complement each other very well. We are combining the strengths of the #1 compact construction equipment manufacturer with those of the #1 off-road vehicle manufacturer to deliver innovative product solutions for our customers. This alliance will enable both companies to extend our customer bases and provide profitable growth."
Published March 2nd, 2009 12:10 PM