1 View
Polaris' Military Unit Off the Line
October 28th, 2007 1:28 PM
Share
Polaris Industries Inc. recently completed the first production run of its newest military vehicle, the MV800 4X4 ATV.
The MV800 is Polaris' first military vehicle to feature the Patriot engine. The 760cc, 40hp engine will run on JP8, which is the military's standard fuel.
"It's already a proven vehicle in the sense that it's a step up from a longstanding vehicle we've been making, but by going with this Patriot engine we have a vehicle that has a much broader application across the military services because it's going to use the military standard fuel," Polaris Defense managing director Mark McCormick told ATV.com. "Up until now, if someone wanted a capability that our militarized ATV provides, they've had to use gasoline and for some branches that's a real logistical issue."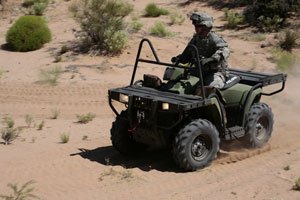 The MV800 can run on gasoline, JP5 and highway diesel in an emergency.
The new Patriot engine was developed in partnership with Australian-based Orbital Corp. and provides nearly twice the horsepower as a compression diesel engine in its size.
"It provides the same or similar performance to commercial ATVs in the 700 class," says McCormick
The MV800 is based on the Sportsman platform, but obviously has some significant upgrades for the military.
Much of the plastic found on commercial machines has been replaced by a steel exoskeleton. There is also an instrument roll bar and front and rear steel racks. The machine is equipped with D rings, including one on each corner that allows it to be airlifted.
Polaris added a second fuel tank to the MV800, providing almost twice the fuel capacity of a standard consumer vehicle.
All of these modifications add significantly to the dry weight and the MV800 tips the scales at roughly 1,050 pounds. As a comparison, the heaviest ATV in the Sportsman class is about 800 pounds.
"The weight is part of its heavy-duty design and is intentional," says McCormick. "There is a big difference between recreation and military use."
The fact that the MV800 is being produced for the military is not lost on Polaris' employees.
"While the company is extremely proud of its PowerSports heritage, it's nice to feel in this day and age that you are doing something that is providing an key asset to the military," McCormick told ATV.com.
Published October 28th, 2007 1:28 PM
Top Brands
Popular Articles