1 View
Polaris Outlaw Wins Finke Desert Race
June 15th, 2009 4:49 PM
Share
Luke Beechey wins Australia's top enduro race
Polaris Racing's Luke Beechey dominated the final day of the 2009 Finke Desert Race to claim victory in the Quad division of Australia's most prestigious enduro race.
The Finke Desert Race is Australia's most famous enduro, attracting hundreds of competitors in Trail Bikes, Cars or ATVs. Racers compete over two days in Australia's Outback from the iconic town of Alice Springs to desert outpost, Finke, across desert sand, rocks and gravel.
Beechey reached Finke in third position on his Polaris Outlaw 525 IRS, just one second behind Polaris Racing's Aaron Ovens (Outlaw 450 MXR). On Monday's return run to Alice Springs, Beechey flew home to greet the checkered flag in an overall time of five hours 33 minutes, 15 minutes faster than his nearest rival.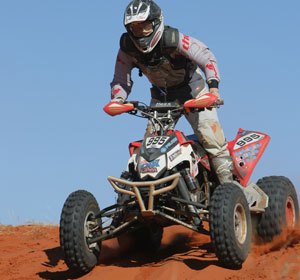 When asked what made the difference, Beechey said, "Out there it's about power and suspension. The KTM engine was strong through the sand, and the IRS delivered the ground clearance to avoid damage on the rocky sections."
Polaris Managing Director, Peter Alexander was one of the happiest fans at finishing line. "I'm ecstatic! We all felt for Luke last year when a final day fuel stop mix-up made second place the only possibility. To Polaris Australia, Finke is the holy grail."
Since Polaris launched Australia's first Professional ATV Racing team in March 2008, Polaris has won the following major trophies:
• Finke Desert Race 2009
• Australian Safari 2008
• Australian Tri-State Championship 2008
• Australian Tri-State Runner-Up 2008
• Victorian ATV MX Championship 2008
• Victorian ATV MX Runner Up 2008
• Queensland ATV MX Championship 2008
Published June 15th, 2009 4:49 PM