1 View
Polaris Ranger EV Honored by Field & Stream
August 26th, 2010 1:34 PM
Share
Electric side-by-side earns "Best of the Best" award
Polaris' all-electric Ranger EV has been awarded "Best of the Best" by Field & Stream Magazine. Polaris also won the "Best of the Best" last year with the Ranger HD 800 featuring the Pure Polaris Lift & Carry system.
"Polaris would like to thank Field & Stream for continuing to notice Polaris' contribution to the hunting industry,'" says Jan Rintamaki, marketing director of the Off-Road Division for Polaris. "It's an honor to be recognized by the world's leading outdoor magazine two years in a row."
The Ranger EV electric Side-by-Side was a first for Polaris. The unit features the largest battery pack in the industry (11.5 kilowatts) and has the longest range of any electric Midsize. Built for clean and quiet operation, the Ranger EV is aimed at hunters and homeowners with acreage. With its 30 horsepower electric motor, 50 mile range and 25 mph top speed, the Ranger EV is designed transport hunters and their gear to and from their hunting site with fewer disturbances to game.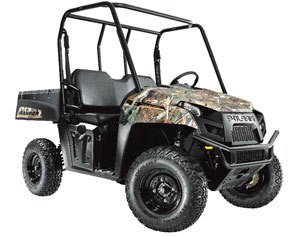 The unit also features a three modes; High for speed, Low for towing and hauling, and Max for maximum range. For harsh terrain, such as muddy fields on the way to fix the fence or trails full of rocks and stumps leading to the tree stand, the Ranger EV features On-Demand True All-Wheel Drive. For more sensitive terrains and a better turning radius, the Ranger EV has VersaTrac with one-wheel, rear-wheel drive to prevent damage and also better navigate tight areas often encountered in the woods.
The Ranger EV has a 500 lb. Lock & Ride cargo box with 1,250 lb. towing and 1,000 lb. total payload making hauling hunting gear or game a breeze; and the model's exclusive 48-volt, AC Induction motor provides high performance with low maintenance and can be charged using a standard 110 vac outlet.
Related Reading
2010 Polaris Ranger Lineup Preview
Electric ATVs: A Consumer's Guide
Published August 26th, 2010 1:34 PM
Top Brands
Popular Articles