1 View
Polaris Reveals 2009 Race Teams
February 12th, 2009 1:28 PM
Share
We're committed to finding, researching, and recommending the best products. We earn commissions from purchases you make using links in our articles. Learn more here
Polaris offers up $773,000 in contingency
Polaris will hit the racing circuit full bore this year competing in the Grand National Cross Country series (GNCC), World Off Road Championship series (WORCS), AMA ATV Motocross (AMA), ITP QuadCross, Best in the Desert (BITD), SCORE International and Mud racing. Polaris also will continue to offer their race contingency program.
"We are committed to ATV and Side-by-Side racing," says Eric Nault, product/race manager for Polaris's ORV division. "With the introduction of the Sportsman XP, Ranger RZR S, and Outlaw 450 MXR for 2009, we feel we have a fierce line up of vehicles to capture titles in the various circuits."
GNCC/AMA ATV Motocross Championship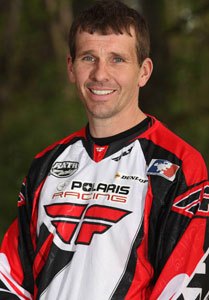 Rath Racing is on board for 2009 to race the Sportsman 850 XP EPS in GNCC and the Outlaw 450 MXR in AMA ATV National Motocross Championship. Daryl Rath, Cody Anderson and Frank Batista will tackle the 4×4 Open classes with the Sportsman 850 XP EPS, and Daryl Rath also will race the Ranger RZR in the Side-by-Side classes.
Rath Racing was the first race team to hit the podium with a factory-backed Sportsman in GNCC series in 2008. In 2009, they will be competing for the championship with the 99-percent new, 2009 Sportsman 850XP EPS. Rath Racers Landon Hurst (Pro-Am Class) and Mitch Reynolds (Pro Class) will race the Outlaw 450 MXR in AMA ATV National Motocross Championship.
Announced last fall, Polaris also is supporting the Yokley Racing/National Guard race team. Multi-time Pro and Pro Production GNCC Winner, William Yokley started racing the Polaris Ranger RZR during the 2008 GNCC season and took the Side-by-Side title. For 2009, Yokley will race the new Outlaw 450 MXR in the Pro Class and continue to race the Ranger RZR. Yokley's teammate, Mark Notman, will race the Outlaw 450 MXR in the Pro-Am Class.
John Gallagher Sr. is back on board the Outlaw 450 in GNCC. Gallagher Sr. has owned the Super Senior class all three years he's raced it on an Outlaw and looks to add another class first in 2009.
WORCS/ITP QuadCross
ATV racing legend, Doug Eichner, will continue to race the Outlaw 450 MXR and Ranger RZR S for the 2009 WORCS season. Eichner took the WORCS Side-by-Side title and finished fifth on his Outlaw 525S in the 2008. He looks to defend his Side-by-Side title and finish on top of the ATV Pro Class for 2009, now that his Outlaw 450 MXR is completely dialed in. Eichner also took the ITP Pro Open Championship in 2008 and will be racing the 450MXR in select ITP QuadCross series events.
Best in the Desert
Jagged X and the No. 1919 Ranger RZR look for their third Best in the Desert Championship in 2009. The team has a current win streak of six consecutive races, including the 2009 series opener, and Brandon Schueler and new team member Chad Riccio, look to continue their winning ways.
SCORE
Mark Lindsay and his Ranger RZR captured the UTV Sportsman championship in 2008 and are back racing Baja in 2009. Lindsay not only won the championship in 2008, but made history in SCORE racing by being the first Side-by-Side to finish the Baja 500. Lindsay went on to finish third in the Baja 1,000.
Mud Racing
Team Highlifter-Polaris Racing is back in the bogs for 2009 after a very successful 2008. The team will be racing Sportsman, Sportsman XPs, Ranger XPs and Ranger RZRs. The racers are as follows:
Sportsman 850 XP: Adam Shumaker, Alicia Gorman, Blake Mann, Brian Robertson, JW Otwell, Maggie Robertson and Trey Thomas
Sportsman 550 XP:
Josh Gorman, JW Otwell and Maggie Robertson.
Sportsman 800:
Scott Smith, Maggie Donald
Sportsman 400:
Alicia Gorman, Renee Thomas
Ranger XP:
Scott Smith, Brian Robertson
Ranger RZR S:
Josh Gorman, Trey Thomas, Maggie Robertson
Polaris ATV Contingency
Polaris also will continue to offer an ATV race contingency program for all youth and adult classes, in seven ATV racing series, with a total purse of about $773,000. Polaris is offering contingencies in GNCC, WORCS, AMA Pro ATV Tour, ITP Quad Cross, SCORE Desert Race Series, Best in the Desert and Canadian Motorsport Racing Club Series (CMRC). Racers must race 2007 or newer quads, with the contingency also including the new Sportsman XP.
Related Reading
Polaris announced 2009 contingency program Published February 12th, 2009 1:28 PM
Top Brands
Popular Articles