1 View
Ranger RZR 4 Wins Blue Water Desert Classic
October 21st, 2010 9:25 AM
Share
Holz-built RZR 4 bests 18 other UTVs
A Ranger RZR 4, piloted by Polaris Regional Sales Manager Matt Parks, took first place both days and first overall in the Pro UTV Class at the Best In The Desert Blue Water Desert Challenge this past weekend in Parker, Ariz.
The Holz-built Ranger RZR 4, nicknamed the "Baja Bobsled," was victorious over 18 other UTVs, one of the largest UTV entries in premier desert racing in some time. Parks and his co-pilot, Polaris District Sales Manager Bryce Wernsman, endured limited visibility from dust and unbelievably deep silt areas on the track that the Ranger RZR 4 had to hammer through.
"This was our first race for the newly-built race Ranger RZR 4," says Parks. "The car ran great both days and it was really fast, particularly in the rough. It was a great weekend and a fantastic outcome."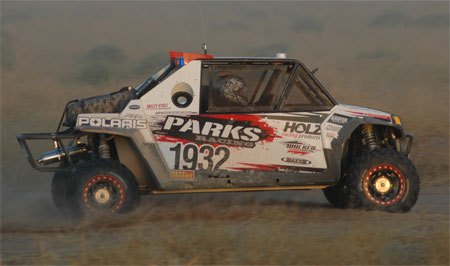 The race Ranger RZR 4 was made possible by Walker Evans Racing, Holz Racing Products, Maxxis Tires (zero flats), Mastercraft Safety, Kroyer Racing Engines, Utendorfer Graphics, Muzzys, PURE Polaris Lubricants, the WWCBG, and was supported by the Baja Bobsled Chase Team (Bill Abshier of Valley Cycle Motorsports, Jason Spiess, Todd Douglass, and Danny Flowers).
Published October 21st, 2010 9:25 AM