1 View
STI Introduces New HD1 Slik-Kote Wheel
February 23rd, 2011 1:40 PM
Share
Wheels feature mud-shedding finish
STI Tire & Wheel has launched its innovative new HD1 wheel. What sets this model apart is its unique non-stick, Slik-Kote finish, which STI says sheds mud like no wheel before.
This high-tech, rugged, deep gray finish reduces mud and debris buildup and resulting unsprung weight, which can compromise the machine's power, handling and ride. It also makes post-ride cleanup exceptionally easy.
The HD1 wheel's heavy-duty construction adds to its innovation. This one-piece alloy wheel features both inner and outer wheel lip reinforcement. Most wheels in this class use only outer lip reinforcement. Like STI's other HD Series wheels, the HD1 carries a lifetime structural warranty.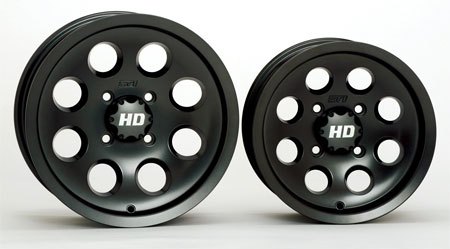 The STI HD1 debuts in 12×7 and 14×7 sizes, to fit most popular utility/4×4 ATVs and side-by-sides. A matching HD logo wheel cap is included with every wheel. The 12×7 has a 700-pound load rating, while the 14×7 size provides an 800-pound load rating.
STI HD1 Slik-Kote wheels are available at dealers everywhere through MTA Distributing.
Published February 23rd, 2011 1:40 PM