1 View
Stowell Earns Rock Maple Racing Win
June 3rd, 2008 2:11 PM
Share
Veteran racer wins Pro Unlimited final
Veteran ATV racers James Stowell and Matthew Pomeroy recorded Pro division wins on Sunday, June 1 as Rock Maple Racing (RMR) completed Round 3 on its 11-race 2008 Can-Am Series at Crow Hill Motor Sports Park in Templeton, Mass.
Stowell powered his Honda to a win in the Pro Unlimited final, while Pomeroy finished in front of the field in the Pro Am final. This is a reversal of fortunes from Round 2 when Pomeroy won the Pro Unlimited and Stowell won the Pro Am. Brent Miller finished second in both of the Pro classes.
Mike Taylor prevailed in a hotly-contested A Unlimited final, holding off Colin Lancaster and Steffan Dager for top honors. Brad Burbine out-gunned Casey Wingate and Steve Scotia to claim victory in the B Unlimited final.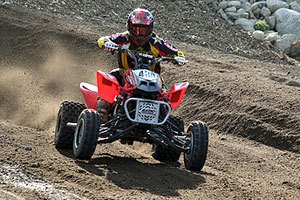 Andrew Ruel is getting rather used to seeing his name atop the podium in ATV racing. The veteran picked up another win in the C Unlimited final, edging out David Livingston and Bruce Gaspardi. Gabriel Baldini and Colby Cannizarro completed the top five in an ultra-competitive battle for the C Unlimited warriors.
Zach Tucker crossed the finish line ahead of Charlie Swayer and local favorite Bert Ringuette to claim the Open Amateur final. George Layton won the Plus 35 final, while Jesse Kruszka, who finished fourth in the Pro Am final, bounced back to win the class for 16-24 year-olds.
Other winners in Quad-X competition include Justin Chamberland (Production Lites); Petra Lindeborg (Women Unlimited); Alex Parker (0-90cc Modified); Jake Chamberland (0-90cc Limited and 0-90cc Unlimited); Ethan Pearson (0-70cc Unlimited); Cameron Dufault (0-50cc Junior & 0-50cc Senior); and Caleb Connors (0-70cc Modified).
Related Reading:
Pomeroy, Stowell pick up Rock Maple wins
Published June 3rd, 2008 2:11 PM