1 View
U.S. House Kills Omnibus Public Land Management Act
March 12th, 2009 9:21 AM
Share
Bill would have closed 2.2 million acres to OHVs
ATV riders can breathe a sign of relief as the U.S. House has voted down a bill that would have banned motorized vehicles from more than 2 million acres of public land.
Senate Bill 22, known as the Omnibus Public Land Management Act of 2009, failed to get the necessary two-thirds vote of the House members by the narrowest of margins. The vote was 282 yes to 144 no for 66.2%. If just two of the 'no' votes went the other way, the bill would have reached the two-thirds required.

The American Motorcyclist Association and other off-road enthusiast groups were upset with the bill because it was more than 160 bills put together to form a single bill more than 1,300 pages long and because it was fast-tracked through the Senate earlier this year. Senate Bill 22 was then positioned for a final House vote without the consideration of House members on more than 70 bills in the package.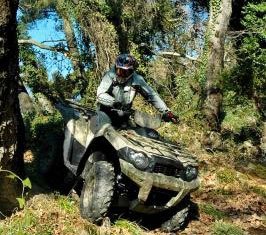 "AMA members played a significant role in the defeat of this bill," says Ed Moreland, AMA vice president for government relations. "We asked all AMA members, off-highway motorcyclists, ATV riders and everyone who supports responsible outdoor recreation to immediately contact their congressional representative and ask them to reject the bill. And people responded, flooding their lawmakers with requests to vote 'no'."
Representative Bob Bishop (R-Utah) was one of the leading voices opposing the measure.
"This bill was the poor product of a poor process, and it would have cut off reasonable access for a whole host of activities on our public lands," says Bishop. "I think it's correct to say that the defeat of this bill today was a victory for Americans who appreciate access, such as the millions of folks who enjoy responsible recreation on our public lands.
"This specific fight is certainly not over, but the grassroots lobbying so far has definitely helped our cause."
Related Reading
Proposed bill could ban ATVs from public land
Published March 12th, 2009 9:21 AM
Top Brands
Popular Articles