1 View
Washington Governor Vetoes Anti Off-road Legislation
April 3rd, 2008 1:26 PM
Share
Measure would have banned construction of new trails for one year
Washington State Governor Christine Gregoire has vetoed a measure that would have banned all construction of new trails or facilities for off-road motorized recreation for at least one year.
State lawmakers had inserted the measure into the state budget in a last-minute amendment, which, according to the American Motorcyclist Association (AMA), did not allow any opportunity for public debate. If it had been approved, the state's Department of Natural Resources would have been prohibited from building or expanding trails or facilities for off-road recreational vehicles until July, 2009.
"We are very gratified that Gov. Gregoire recognized the unfairness of this measure, which would have cut off funding for off-road motorized recreation while continuing to collect taxes and fees from off-road vehicle users," say AMA western states representative Nick Haris. "Gov. Gregoire heard from hundreds of concerned citizens who were unhappy about the way the Washington state legislature approved this ban in the dark of night, and she did the right thing by reversing it."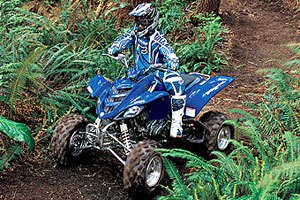 Members of the AMA and other off-road organizations helped get word out about the measure last week. Nearly 500 people used the AMA's Rapid Response Center to send messages to Gov. Gregoire, urging her to quash it. Other groups, including the Northwest Motorcycle Association, Washington Off-Highway Vehicle Alliance and Blue Ribbon Coalition, helped rally support for a veto.
"This is a powerful example of how the AMA and other organizations can work together to identify issues, establish a strategy and implement a plan to successfully reverse an ill-conceived and undemocratically imposed mandate," says AMA vice president for government relations Ed Moreland. "It's also a blueprint for how the AMA can address similar issues with an assertive, pro-active and inclusive approach at state and local levels all across the country."
The state budget, which covers the period from July 1, 2008 to June 30, 2009, was approved by the full legislature on March 13 before landing on the desk of Gov. Gregoire.
Contained in a single paragraph on page 75 of a 129-page bill, the measure was added by a six-member conference committee.
"These legislators owe the OHV community an explanation for why this language was added to the bill with no opportunity for public comment," says Haris.
Related Reading:
Washington State limits off-road trails
Published April 3rd, 2008 1:26 PM
Top Brands
Popular Articles