1 View
William Yokley ATV Report – Acerbis Loretta Lynn GNCC
April 21st, 2009 5:31 PM
Share
Yokley finshes seventh at Loreta Lynn's Ranch
William Yokley finished seventh overall and seventh in the XC1 Pro Class at the historic Loretta Lynn's Ranch. There were 219 total entries with 21 XC1 Pro Riders. Team Rider Mark Notman finished 175th overall and 23rd in the 30 rider XC2 Pro Am Class after experiencing some mechanical issues.
William Yokley's Race Summary
I always like coming to Loretta Lynn's because it's pretty close to home and the facilities are great. It's the oldest race on the GNCC circuit and always draws a huge crowd. The course is always rough with lots of hills, sandy soil with rocks mixed in, and lots of whooped out trails. Each lap includes a circuit around their national-level motocross track which is really fun. I felt like I made some improvements in the handling department during testing this past week. Elka Suspension's Jay Gobel came to KY a few days prior to the event to work with myself and Mark Notman to fine tune our Elka shocks and Roll Design a-arms. I knew that this year would be a work in progress with this new bike, and I'm feeling more comfortable on it every race.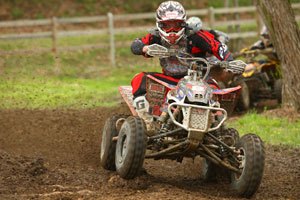 The conditions were great on race day as I prepared to head to the start area. The National Guard had a neat setup with a huge spider tent with display materials and lots of soldiers and recruiters. They performed the Color Guard presentation before the races which is always very meaningful and appreciated by everyone. Even though I didn't get a good gate pick, my Polaris fired quickly and I got a decent start and missed the big pile up in the first turn. I entered the woods in seventh place, and the pace was pretty fast and intense right off the get go. With positions changing every few minutes, I wish I had a camera to catch all the action! I was more on pace with the front runners today as the bike was working well, and thanks to my workout/nutrition plan laid out by Moto Pro Training, I was able to hang in there for the duration of the race. I know each and every race that my tires and wheels are going to be hammered, but I'll have to say my Kenda tires, Tireballs, and Douglas wheels held up like a champ and performed great. Finishing in seventh place and seeing progress from the hard work from myself, family, team and sponsors have put into the 2009 season is very rewarding. I look forward to the next race and the rest of the season!
My teammate Mark Notman had another difficult day. He got a pretty good start but got shuffled out trying to avoid some bottlenecks. He was 21st on Lap 1, and passed 4 riders on Lap 2, even with his bike experiencing some overheating problems. The problem got worse and he had to withdraw; he was totally bummed out. Mark had his bike set up really well and had been flying in practice, so this was a tough day for him. He will regroup and be up front soon.
We go to Lafayette, TN in 2 weeks which is a new track on the schedule this year. We will be ready, see you there!
Yokley Racing Team Sponsors are: The Army National Guard, Polaris Industries, Kenda Tires, Elka Suspension, Roll Design, HMF Exhaust Systems, IMS/Roll, PURE Polaris Lubricants & Fuels, Intense Fabrication & Design, Douglas Wheel Technology, Moto Pro Training, Tire Balls, Andrews Cycle, Tsubaki Chains, IMS, Four Apparel, ASV Levers, CV4 Hoses, Hygh Octane Design, PIER Graphics, Universal Handlebars, Scott Goggles, ATVRiders.com, Hetrick Motorsports, Powermadd, and Rekluse Clutches.
Published April 21st, 2009 5:31 PM
Top Brands
Popular Articles