1 View
William Yokley Race Report - Snowshoe GNCC
September 16th, 2008 10:37 AM
Share
Yokley rebounds from early trouble to finish in top 10
William Yokley finished 12th overall and 10th in the XC1 Pro Class on Sept. 13 in the West Virginia mountains. There were 197 total entries with 21 XC1 Pro Riders. Team Rider Mark Notman finished 26th Overall and 9th in the XC2 Pro Am Class.
Yokley's Race Summary:
It's always fun coming to the Snowshoe Resort; the facilities are first rate and the scenery is spectacular. It's a real treat to be able to walk out of a nice hotel room right down to your pit area and the starting line. This is the only GNCC race that has a live engine Grand Prix style start on pavement, which adds to the carnival atmosphere of the event. The machines are lined up in rows of five taking up the entire length of the main street, and each row is flagged off in ten second intervals. It's intense, but loads of fun and the spectators love watching the quads backing in the first turn sprint car style with tires smoking and a little beating and banging going on.
I started on the second row and my teammate Mark was right behind me in the third row. I was in second place in our group as we headed out to the ski slopes and I settled in for what I knew was going to be grind. The Snowshoe course is one of the toughest on the schedule with a 14 mile lap with lots of elevation changes, and long sections of rock gardens, deep ruts and mud bogs. The scenery is beautiful if you could only take the time to take it all in, but you can't, or you'll wreck big time! Getting your machine set up right and jetted properly is very important here, as the start area is almost a mile above sea level, and you do go up and down the mountain several times per lap.
I ran in 5th place most of the first lap, that is until I hung a wheel on the edge of one of the many deep mud holes. That hole was much deeper than I thought, and just sucked my whole bike into it; I was in trouble already! I struggled to get the bike out, and every time I tried to lift one end out, I would sink down in mud above my knees. I got a crash course about the true meaning of suction. I finally got the bike out after about 3 minutes; I was covered in mud, my gloves were all wet and slimy which made holding on to the bars challenging, and my heart rate was in the red zone like a gazelle getting chased down by a lion. I made it back to the pits at the end of lap 1, and I had dropped out of the top forty overall.
I concentrated on keeping a steady pace and not getting hung up in the many bottlenecks and obstacles, and tried to work my way back toward the front to salvage as many points as possible. I did get stopped a few more times in traffic jams, but everybody else did too. At the end of lap 2, I had worked my way up to 15th in the Pro class; so many other guys were having difficulties like I had. I finally finished the race in 10th place in the XC1 Pro class, and I actually felt stronger as the race progressed. Many thanks to Mark Spataro and his training program! I salvaged some points and I remained in 6th place in the season standings with three races left to run.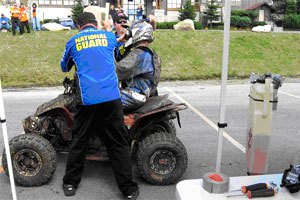 My teammate Mark Notman actually had a very good race, even though results show that he finished in 9th place in the Pro Am class. At one point, he was in the top 10 overall and running strong. As he came through the pits on lap 1, the crew could hear that his bike was running rough and missing badly under full throttle. On this course, you need the horsepower to get up all the steep mountain trails, and he was under a huge handicap. We think he may have gotten some mud or water in the carb and clogged up one of the jets. Mark rode very well to the finish, and actually had to push his bike up some steep grades on the last lap. Needless to say, he slept very well that night! Good job Mark!
Although we were both disappointed with our finishes, we realized it could have been much worse. We both finished in the top 10 in our classes, and held on to our season points positions; Mark is 3rd in the Pro Am class, only 1 point out of second. We have 2 weeks to get ready for the next race in historic Unadilla, NY, and a nice 17 hour drive! Congratulations to Adam McGill, Bill Ballance and Jarrod McClure for finishing on the podium today, they earned it!
One final bit of news, I am excited about signing with Polaris for 2009. Yokley Racing will be factory supported competing on the new Outlaw 450 sport bikes and RZR UTVs. Mark and I can't wait to get these new bikes, and work with all the great people at Polaris. Polaris has great products and we are honored to be representing them. And best of all, they're MADE IN THE USA BABY!
See you next time; I've got to go shovel some mud and rocks out of my leathers!
Yokley Racing Team Sponsors are: The Army National Guard, Rocky Mountain ATV, Polaris Industries, ITP Tires, Elka Suspension, Roll Design, HMF Exhaust Systems, IMS/Roll, Tire Balls, Andrews Cycle, Douglas Wheel Technology, Baldwin Motorsports, CGR, O'Neal Clothing, Panolin Lubricants, IMS, Hinson, 317 Graphics, Intense Fabrication & Design, Tsubaki Chains, Hardkor, Shoei Helmets, Axcalibar Axles, Streamline, Powermadd, KG Clutch Factory, Moto Pro Training and ATVRiders.com.
Related Reading:
Polaris to support Yokley Racing team
McGill holds off Ballance for GNCC win
Published September 16th, 2008 10:37 AM
Top Brands
Popular Articles