1 View
William Yokley UTV Report – The Ironman GNCC
October 28th, 2008 11:50 AM
Share
We're committed to finding, researching, and recommending the best products. We earn commissions from purchases you make using links in our articles. Learn more here
Yokley rides his Polaris RZR to another win
William Yokley finished first overall Saturday at The Ironman UTV race. There were 71 total entries with 19 Open Modified teams. National Guard COL Ron Turner was the mandatory passenger in the machine.
Yokley's Race Summary:
Saturday was Round 4 of the GNCC UTV Race Series in St. Crawfordsville, Ind. The final GNCC UTV race drew the largest field of the year and this series seems to really be catching on in popularity. I was leading in the points coming into this event, and if I could have a strong finish, I could wrap up the National Title.
The four mile course was a little longer than normal which made for a little less traffic and fewer jams. The course consisted of some high speed open field sections, some tight woods, some creek crossings and hills. I was honored to have COL Ron Turner as my passenger. COL Turner is the Chief of Staff in Kentucky and has been instrumental in building the Yokley Racing – National Guard relationship; this would be his first ride in the Polaris RZR.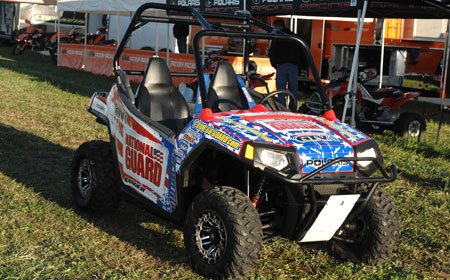 Our first task was getting his 6' 5" frame to fit into the cockpit comfortably. We let the safety belts out and got him in OK, but his head was right up against the top of the roll cage. I could see that it was going to be a battle between his helmet and the cage during the race!
We headed to the starting line in a large, recently harvested corn field. I had gotten the hole shot in every UTV race this year, so I had confidence that we could do it again. Whoops! Our machine did not fire immediately, and we were at the back of the field as we headed through the first several corners. We banged around and worked our way up to 7th at the end of the first lap. On lap two, we were third, but about 40 second behind the leader. We hammered away and were able to catch up and to take the lead with three laps remaining. Our day was not without some mayhem as we did get hung up a few times with some fellow racers. When we finished, the passenger side panel was completely ripped off; neither of us knew when that happened!
It was a great day and COL Turner had fun in his first experience in the RZR. On the podium, he commented how he was now hooked on this type of racing, and referred to me as a "Maniac" and "Wildman"; I'm not quite sure what he meant by that! If yelling was any indication of how much he enjoyed the ride, he had a ball!
I want to congratulate Jarrett Stephens and Shane Turner for finishing second and running real strong; they led the race for quite a while. I also want to thank Polaris for providing me with the best machine out there and the Army National Guard for supporting me this year. All my sponsors listed below contributed to the success of our team this year, and for that I am deeply grateful. We now take a little break and start getting ready for next season. See you there!
Yokley Racing Team Sponsors are: The Army National Guard, Rocky Mountain ATV, Polaris Industries, ITP Tires, Elka Suspension, Roll Design, HMF Exhaust Systems, IMS/Roll, Tire Balls, Andrews Cycle, Douglas Wheel Technology, Baldwin Motorsports, CGR, O'Neal Clothing, Panolin Lubricants, IMS, Hinson, 317 Graphics, Intense Fabrication & Design, Tsubaki Chains, Hardkor, Shoei Helmets, Axcalibar Axles, Streamline, Powermadd, KG Clutch Factory, Moto Pro Training and ATVRiders.com. Published October 28th, 2008 11:50 AM
Top Brands
Popular Articles