1 View
Wimmer Looks to Continue Winning Ways
May 21st, 2008 11:03 AM
Share
National Motorcross Series heads to High Point Raceway
Dustin Wimmer and his LT-R450 are heading to Mount Morris, Pa. for the sixth round of the ITP/Moose Racing AMA/ATVA National Motocross Championship Series, May 24 to 25.
High Point Raceway, one of the preeminent motocross facilities in the United States, is hosting the Memorial Day race. Riders will vie for the AMA National Championship and the AMA No. 1 Number Plate.
This weekend marks the second Showcase Event of the season. Showcase events feature outdoor expo exhibits and displays dealers and vendors. Part of the Showcase program is ATV RiderCourse, the Nation's premier hands-on ATV riding school.
MSR/Suzuki/Yoshimura/Pro Taper's Wimmer has won three of the first five rounds of the series and holds a commanding 40-point lead over teammate Doug Gust. With the series reaching the halfway point, the competition has to stop Wimmer soon, or the AMA No. 1 plate may get out of reach.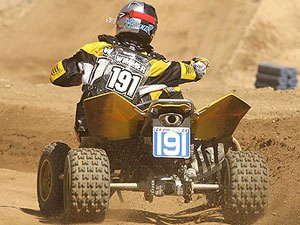 Gust has as good a chance as anybody to catch Wimmer. The veteran has been strong and consistent all year. He has already earned a win at Ballance MX, and has posted a top-five at every round to this point. It isn't too late for Gust to mount a charge toward the title.
Can-Am's John Natalie, fresh off an impressive second-place finish at the Concept Haulers ATV Showdown, is third in the standings and lists High Point Raceway as his favorite stop on the tour. Natalie has been fighting a serious eye infection, which was caught just in time before major surgery was required.
Two-time defending AMA titleholder Joe Byrd is also still in the hunt. Byrd got off to a slow start, but has gained momentum as the series has progressed. Said momentum is anchored by a hard-earned victory at Birch Creek that catapulted Byrd back into title contention.
Behind the top three in points, sits a long list of podium finishers that are all candidates for their first win. 2007 ATV Invitational winner, Pat Brown has yet to win in 2008, but is fresh off his first podium finish of the season and will be looking to keep his Golden West/Team Yamaha No. 199 ride at the front of the pack. Another racer looking to expand his podium appearances is East Coast ATV's Jason Dunkleberger.
Meanwhile it's crunch time for team Monster Energy Kawasaki. The three-man team of Josh Creamer, Russell Shumacher, and Keith Little has shown flashes of brilliance through the first five rounds, but the team has suffered from poor racing luck. Look for the Team Manager Jimmy White led team to turn their fortune around in the second half of the series, become podium regulars, and content for victories.
There will also be some international flavor in French Canadian rider Jasmin Plante. Plante placed second in Kentucky earlier this season, handing Team Yamaha its best finish yet in 2008.
All of the racers will be in for a special treat, as they will be the first competitors to ride on the freshly re-designed High Point circuit. The course has seen a major facelift during the spring with new sections and several new jumps added to the legendary track.
The race will be telecast on Versus Network on Sept. 15 at 3:30 p.m.
Championship Points Leaders:
| | | | |
| --- | --- | --- | --- |
| Position | Rider | Manufacturer | Points |
| 1. | Dustin Wimmer | Suzuki | 203 |
| 2. | Doug Gust | Suzuki | 163 |
| 3. | John Natalie | Can-Am | 135 |
| 4. | Joe Byrd | Honda | 133 |
| 5. | Harold Goodman | Honda | 115 |
| 6. | Josh Creamer | Kawasaki | 108 |
| 7. | Chad Wienen | Suzuki | 100 |
| 8. | Rocco Arno Jr. | Honda | 95 |
| 9. | Jason Dunkelberger | Honda | 90 |
| 10. | Jeremy Lawson | Can-Am | 90 |
Related Reading:
Wimmer dominates in the rain
Published May 21st, 2008 11:03 AM
Top Brands
Popular Articles