1 View
Yamaha Contributes More Than $700,000 GRANTs
January 8th, 2009 12:03 PM
Share
We're committed to finding, researching, and recommending the best products. We earn commissions from purchases you make using links in our articles. Learn more here
OHV Access Initiative has successful first year
Yamaha Motor Corp., U.S.A., via the company's new OHV Access Initiative, injected more than $700,000 in cash and equipment in 2008 directly into projects across the country supporting safe, responsible riding and sustainable, open riding areas.
In the program's first year, Yamaha took a leadership role in the ongoing issue of OHV access by providing GRANTs (Guaranteeing Responsible Access to our Nation's Trails) to more than 65 local, regional and national organizations representing the greater OHV community. Awardees from the OHV Access Initiative's fourth quarter funding cycle include:
• The California Trail Users Coalition
• Cheaha Trailriders, Alabama
• Aitkin County, Minnesota
• Arrowhead ATV Club, Minnesota
• Dixie National Forest, Cedar City Ranger District, Utah
• Florida Trail Riders
• Lewis County Department of Forestry, Parks & Recreation, New York
• Paul Bunyan Forest Riders, Minnesota
• Rose City – Lupton Area Chamber of Commerce, Michigan
• Embarrass River ATV Park and Campground, Wisconsin
• Town of Rome, Dyracuse Recreational Park, Wisconsin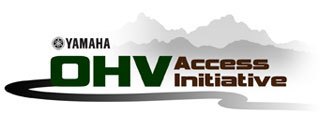 "By directly funding public and private land management and enthusiast-initiated projects, the Yamaha OHV Access Initiative is leading the grassroots effort in creating and sustaining safe and responsible riding opportunities," says Mike Martinez, Yamaha's general manager of ATV and side-by-side (SxS) operations. "These GRANTs have become an important asset to the OHV community and we are pleased to continue this support into 2009."
The primary purpose of the OHV Access Initiative is to provide funding of OHV access-related projects that include, but are not limited to:
• Trail development, restoration and maintenance
• Trail signage and map production
• Staging area construction, renovation and maintenance
• Land stewardship and education
• Responsible OHV riding education and outreach
• Legislative lobbying efforts
"This year, the OHV Access Initiative has demonstrated the ability to make a significant impact where it counts the most – on the ground," says Steve Nessl, Yamaha's ATV/SxS marketing manager. "Riders, land managers and OHV groups are working together to submit quality applications in support of long-term access goals. Yamaha plans to expand this program and build on its success in supporting the OHV community well into 2009 and beyond."
Updated guidelines, an application form and information on the OHV Access Initiative are available at www.yamaha-motor.com/ohvaccess.
Related Reading
Yamaha hands out more GRANTs
Yamaha issues more than $200,000 in GRANTs
Yamaha hands out $190,000 in OHV awards Published January 8th, 2009 12:03 PM
Top Brands
Popular Articles