1 View
Yamaha Hands Out $175,000 in GRANTs
April 17th, 2009 2:10 PM
Share
We're committed to finding, researching, and recommending the best products. We earn commissions from purchases you make using links in our articles. Learn more here
Program support of safe, responsible off-road riding
Yamaha Motor Corp., U.S.A., is contributing more than $175,000 in cash and equipment this first quarter of 2009 to ATV riding clubs, national forests, law enforcement support groups and other off-highway vehicle (OHV)-related organizations across the country.
This initial effort for 2009 is a continuation of Yamaha's OHV Access Initiative, which has poured more than $875,000 into the OHV community since the beginning of last year supporting its mission of promoting safe, responsible riding and open, sustainable riding areas.
In this first quarter funding cycle, Yamaha GRANTs (Guaranteeing Responsible Access to our Nation's Trails) were awarded to 15 applicants with compelling projects designed to improve OHV experience locally, regionally and nationally. Awardees include:
• Ashland Resource Area, Oregon
• ATV Off-road Club of Michigan
• Balsam Trailblazers ATV Club, Minnesota
• Burnett County Law Enforcement Citizens Auxiliary, Wisconsin
• Colorado OHV Coalition Foundation
• Coalition of Recreational Trail Users, Minnesota
• Deschutes National Forest, Oregon
• Harlan County Ridge Runner ATV, Kentucky
• Knott County Trail Riders, Kentucky
• Leatherwood Fire & Rescue, Kentucky
• National OHV Conservation Council
• Northern Traxx ATV Club, Minnesota
• Oswego Valley ATV Club, New York
• Ride Safe Virginia
• Rock Run Recreation Area, Pennsylvania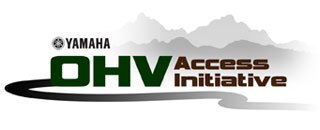 "The Yamaha OHV Access Initiative has become a vital resource for OHV communities that are performing the on-the-ground work needed to create and maintain safe and responsible riding areas," says Mike Martinez, Yamaha's general manager of ATV and Side-by-Side Operations. "Yamaha has put more than $875,000 back into the OHV community through the OHV Access Initiative over the past 15 months. Particularly in this economic climate, these grass roots organizations need help, and Yamaha is proud to continue our support of the industry and enthusiasts through these GRANTS."
The primary purpose of the OHV Access Initiative is to provide funding of OHV access-related projects that include, but are not limited to:
• Trail development, restoration and maintenance
• Trail signage and map production
• Staging area construction, renovation and maintenance
• Land stewardship and education
• Responsible OHV riding education and outreach
• Legislative lobbying efforts
Updated guidelines, an application form and information on the OHV Access Initiative are available at www.yamaha-motor.com/ohvaccess.
Related Reading
Yamaha contributes more than $700,000 GRANTs Published April 17th, 2009 2:10 PM
Top Brands
Popular Articles