43 Views
Antigravity's RE-START Lithium ATV Batteries Can Actually Jump-Start Themselves
June 22nd, 2022 4:34 PM
Share
We're committed to finding, researching, and recommending the best products. We earn commissions from purchases you make using links in our articles. Learn more here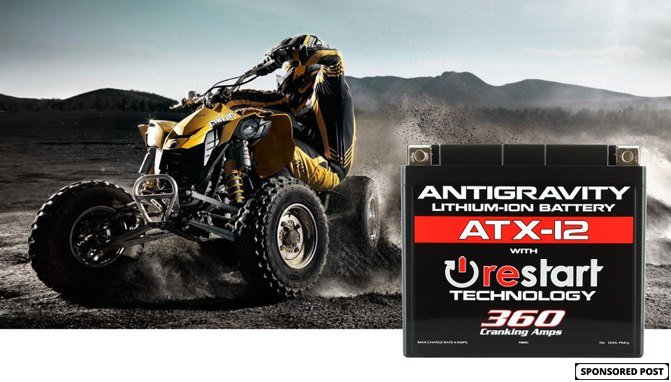 It's a fact we all have to live with: sooner or later, if we keep riding, we're going to encounter a flat ATV battery. With any luck, when it happens to you, it will arrive when you're riding with other people so that someone can give you a jump – or better still, before you've even made it out of the barn. Unfortunately, life isn't always so kind.
That's why we're in awe of Antigravity Batteries, whose RE-START lithium-ion vehicle battery can actually "jumpstart" itself. How? According to Antigravity, the RE-START is the first powersports battery with a full-featured battery-management system (BMS) built right in. The BMS is the sophisticated bit of circuitry responsible for monitoring battery cell performance and state-of-charge, and it works full-time to provide cell balancing, low-voltage cutoff, temperature protection, and protection against overcharge and over-discharge conditions.
That's where Antigravity's BMS shows off what is undoubtedly its niftiest party trick: when the system detects that the battery has been over-discharged, it puts itself to sleep, but with just enough charge left over to restart your vehicle again. All you need to do is press the RE-START button on top of the battery, and off you go. No wandering around trying to get a walkie signal so you can hail a friend to bail you out, no trudging back to camp on foot, and no need to carry a booster pack around with you wherever you go. And if the battery is in an inconvenient spot in your vehicle, Antigravity also offers a remote accessory so you can hit the RE-START button without having to leave the seat.
Of course, that comes along with all the other typical benefits you get with a lithium-ion powersports battery – chiefly, less weight, more cranking current, and superior longevity compared to a lead-acid battery. In fact, Antigravity says its RE-START battery weighs up to 70 percent less than a comparable lead-acid design, while delivering as much as twice the power. Even more impressively, it lasts up to three times as long, with a claimed lifespan of 8 to 10 years in normal conditions. Who knows? It might just outlast your ATV.
The range of different applications for Antigravity's lithium-ion RE-START battery is impressive, with 6V and 12V variants in a variety of direct-fit, drop-in-replacement sizes with Antigravity's smart four-terminal design. Four terminals means you don't have to worry about whether your vehicle uses top- or side-mounted terminals; either way, you've got connections right where you need them.
It Doesn't Stop with the Re-Start
Antigravity Batteries offers plenty of other gizmos to support your next off-grid adventures, too. The Antigravity PS-45 and PS-80 power stations are perfect for powering lights and recharging electronics such as cameras and cell phones at the campsite, with 45,000 milli-amp hours of capacity for the PS-45, and 78,000 milli-amp hours for the PS-80. Charge them up using a wall or car charger, or if you're really going off-grid, one of Antigravity's portable solar panels, and you've got the perfect compact, lightweight power source with you.
If you're trying to be more of a minimalist about your gear, or you still feel the need to keep a portable jump-starter with you just in case, Antigravity's Micro-Start lithium-ion portable jump-starters are another great adventure accessory. The XP-1 and XP-3 are compact enough to slip easily into your pack, light enough to lug around without much penalty, and besides supplying up to 400 peak amps to jump-start your car, truck, ATV, UTV, or motorcycle, they've also got built-in LED flashlights and USB ports for recharging phones, cameras, and portable speakers.
Even your RV can benefit from Antigravity's superb lithium-ion battery tech; the company offers two different Group 31 deep-cycle lithium-ion batteries suitable for RV use, with built-in battery management systems and built-in Bluetooth capability, which allows you to check your battery status remotely using a free mobile phone app. The more premium version, the DC-100-V1, even packs a top-mounted gauge to check the state of charge, and an automatic self-heating feature to help your vehicle start in frigid cold temperatures.
Wherever your next off-grid adventure takes you, whether it's a self-jump-starting ATV battery, a portable power bank, or the most robust, easy-to-monitor RV battery you can find, Antigravity Batteries has you covered. Published June 22nd, 2022 4:34 PM
Top Brands
Popular Articles