49 Views
ATV.com Big Gun Exhaust Buyer's Guide
August 10th, 2021 4:15 PM
Share
We're committed to finding, researching, and recommending the best products. We earn commissions from purchases you make using links in our articles. Learn more here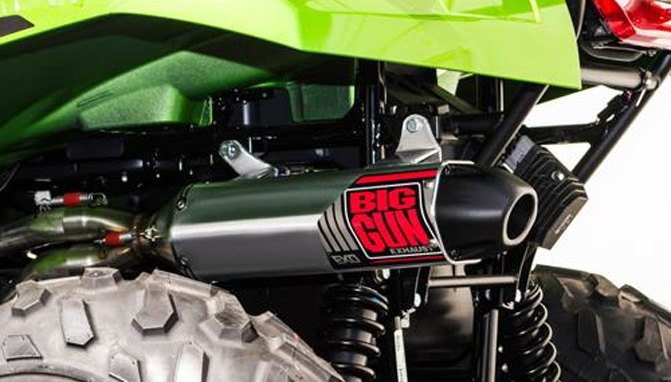 A Big Gun exhaust can take your ATV or UTV to the next level
Big Gun is one of the biggest names in performance exhausts for ATVs and UTVs. In this article, we'll help show you which models are best for your needs and riding style?
After tires, an exhaust system is the most popular aftermarket accessory most ATV and UTV owners tend to add to their machines. There are several reasons for this. They add horsepower, reduce weight ,and most just make your machine sound really cool with a deeper and louder exhaust tone. One of the biggest names in the industry is Big Gun, and they've been producing some of the most popular exhaust systems for ATVs and UTVs for decades. Big Gun Exhaust has been offering different models of exhaust systems for just about every four-stroke sport performance or utility machines on the market, and even has exhaust systems for todays popular UTV models.
Which Big Gun exhaust system is right for you? The company produces a host of options, including several versions of the popular Big Gun EVO exhaust, so we're taking a deep dive into their offerings to see the differences of each and how they benefit you.
Table of Contents
1. Editor's Choice: Big Gun EVO U
The EVO U is a popular system from Big Gun Exhaust. The U obviously stands for Utility and this is the series of exhaust systems for your hard-working machines and Sport-Utility machines. These exhaust systems provide a small but noticeable power increase, a characteristic of most exhaust systems. There is also a definite change in the tone of your engine. Yes, it will be louder, even though Big Gun installs its Vortex Quiet Insert so it's not too loud. The muffler is made from high-grade aluminum and coated in a high-temperature black finish. The exhaust pipe is 304 stainless steel with TIG-welded, reinforced muffler brackets. There is a USFS-approved spark arrestor screen, so you won't start any fires and are legal on the trail.
2. Best Sport ATV Performance Exhaust: Big Gun Evo R
The EVO R represents the racing history and technology that made Big Gun one of the big guns in the performance scene. This Big Gun exhaust system is designed for making power and saving weight, all the things you expect in a competition exhaust. Big Gun boasts that the R series will provide massive increases in horsepower and torque. It can back it up by opening up the flow out of the engine. The muffler is anodized aluminum and is mated to a 304 stainless-steel header pipe. The muffler saves weight over the stock system and the reduced size allows for full clearance. These exhaust systems are available for modern sport machines and motocross bikes. There is a distinct sound increase, but if you're in the market for performance, you'll appreciate the tone. The Big Gun EVO R includes a removable USFS-approved spark arrestor screen that doesn't hinder performance at all.
3. Best Exhaust For Mini ATVs: Big Gun Evo M
The EVO M has been part of the lineup for over a decade and remains one of the more popular options. The M stands for mini, meaning this exhaust was designed to add performance increases to 50cc to 110cc youth ATVs, and who doesn't want to let their kids rip around on a mean sounding machine? It does for the youth models the exact same things you get in the full-sized machines - reduced weight, increased power and a definite change in sound output. The muffler is aluminum and is mated to a 304 stainless steel pipe with TIG-welded hangers. The muffler has a USFS-approved spark arrestor screen, just like the other models and the system has the same sweet look at the other Big Gun Exhaust systems. You can make your kid's machine look just like mom and dad's. How cool is that?
4. Best Slip-On Option: Big Gun ECO
The Big Gun ECO exhaust is for those looking to add performance and style while on a budget. The ECO series is a slip-on exhaust that mounts mid pipe and uses quality components. It has a 6061 aluminum muffler mated to a 304 stainless pipe. The end cap is black powder-coated stainless steel for a distinct look. The ECO system offers improved power and torque over stock and has the sporty sound of a Big Gun Exhaust. Each ECO exhaust has a removable USFS-approved spark arrestor screen. The ECO system is available for select recreation, sport and utility machines.
5. Best Large Bore Exhaust: Big Gun EXO
When you're riding the big machine, you need the biggest Big Gun and that is the EXO series. These Big Gun exhaust systems were created for machines with bigger motors that needed a bigger muffler to optimize the horsepower and torque output while still providing a manageable sound output. The hexagonal-shaped aluminum mufflers have Big Gun's internal sound wave altering technology that maximizes the performance without the excessive sound. The hexagon shape maximizes the volume of air the muffler can move, while maintaining a minimal size. There is a stainless steel coned inlet to allow for more volume moving through the muffler. The EXO system uses all of the same premium materials as the rest of the Big Gun line with a 304 stainless steel pipe and USFS-approved spark arrestor screen.
There is also the EXO Stainless when you want more durability out of your exhaust than the aluminum can delivers. The Big Gun EXO Stainless takes all of the features and design of the EXO series Big Gun Exhaust and replaces all of the aluminum components with durable 304 stainless steel. Big Gun states that this system is its most durable exhaust. Made for the same big engine machines, the EXO stainless is a high performance system that looks great and is very distinctive.
What do I look for when considering an aftermarket exhaust system?
One of the things we recommend is to ask around. With so many forums and social media groups at your disposal, you can get a lot of feedback on almost anything you want to put on your ATV. Ask people what kind of exhaust system they like for the kind of riding that they do. Some may have done the trial and error part for you and will let you know about it. Second, you'll want to get a system that is backed by the company that makes it. The last thing you want is to have an exhaust that fails (cracked pipe mounts and canisters are common) and the manufacture won't back their system for production issues. Some manufactures may even offer a money back guarantee for performance.
How easy is it to add a Big Gun Exhaust to my machine?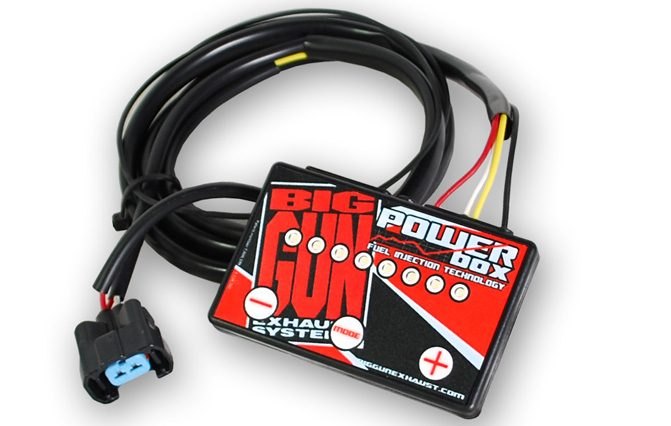 Swapping out the stock exhaust system on your ATV or UTV isn't that difficult. Most are a simple bolt-on project that can be done relatively quickly in an hour or less, depending on the machine. However, to truly get the most advantage out of adding a Big Gun Exhaust to your machine, you need to tune the fuel system after installation and prior to use. A Big Gun TFI Powerbox is a simple tool that lets you program your machine's EFI to work with the new exhaust. Doing this will add additional horsepower to your machine by optimizing the fuel delivery and exhaust timing. These are plug-and-play devices and are very simple to use., making the whole process pretty painless.
How much power will I gain with a Big Gun Exhaust system?
How much of a boost you'll see will depend on the model of Big Gun and the machine you have. Typically, with most exhaust systems, you'll see a boost of 3-5 horsepower and 4-6 foot/pounds of torque. That is if you have a properly tuned EFI, too. These numbers vary according to your elevation, machine, fuel quality and more. You can see significantly more power, or you can see an average increase. You will, however, experience a boost that you will be able to feel when you're on the gas.
Additional Resources
Become an ATV insider. Get the latest news first by subscribing to our newsletter here.
We are committed to finding, researching, and recommending the best products. We earn commissions from purchases you make using the retail links in our product reviews. Learn more about how this works.
Updated 8/10/2021: Updated product descriptions, ranked product, added FAQ question, added additional resources Derrek Sigler
Derrek's love for all things ATV started when he was a mere 11 years old, growing up on his family farm. His mom gave him and his sister a choice - get a horse, or a three-wheeler. The sister wanted the horse, and Derrek wanted the ATV. Luckily he won out, and was soon burning up the trails on a Yamaha Tri-Moto 200. By the time he was 14, he had saved enough of his own money by working on the farm and in his folks restaurant to buy a new 4-wheeler. That happened the day he and his mom were driving past the dealership and saw 1987 Banshee. His mom had no idea what he was buying, and he never looked back. He's been riding ever since, and been writing professionally for many years. He has ridden all over North America and been behind the controls of just about every machine out there. And yes, he still has his 1987 Yamaha Banshee.
More by Derrek Sigler
Published January 23rd, 2019 4:17 PM
Top Brands
Popular Articles