62 Views
Best 28 Inch ATV Mud Tires
November 5th, 2020 1:28 PM
Share
We're committed to finding, researching, and recommending the best products. We earn commissions from purchases you make using links in our articles. Learn more here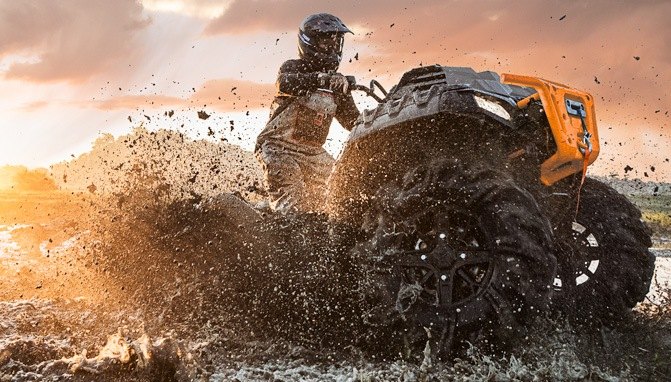 Show the mud who's boss with some new tires
If you want to take your ATV's mud-handling capabilities to the next level, then a set of 28 inch ATV mud tires might be in order.
Like passenger vehicle tires, ATV tires are offered in an array of different styles to suit different sorts of terrain. Chances are pretty good that yours shipped with a fairly standard set of all-terrain tires, which are great, versatile all-rounders, but they can often find themselves overwhelmed by tough, muddy conditions. If you're tired of surrendering to the thickest, soupiest of muds, it might be time for an upgrade.
Lucky for you, a number of reputable manufacturers offer 28 inch ATV mud tires that can take your ATV's mud-terrain capabilities to the next level. Here, we take a look at some of the best ATV mud tires on the market, from well-known brands like Maxxis, Kenda, and ITP. Stick with one of the tires on this list and it will take a whole lot more than a shallow puddle of mud to render you stuck next time.
Table of Contents
1. Maxxis Mudzilla (12 in. wheel)
Among the most revered ATV tire brands on the market, Maxxis makes one heck of a good mud-terrain tire, and the Mudzilla in particular is a monster in the muck. There are three different 28 inch Mudzilla models, each designed for a 12-inch wheel, and each with an intimidating 1 ½ inches of tread depth for big traction. The Mudzilla is a 6-ply bias tire boasting aggressive "pyramid-shaped" tread blocks designed to scoop their way through the mud, with a pattern specifically shaped to flex more in mud-accumulating areas, helping shed dried, caked-on mud to keep the tire clear so it can keep performing its best.
2. ITP Mega Mayhem (12/14 in. wheel)
Apart from having an absurdly fun name, the ITP Mega Mayhem is also an absurdly good 28 inch ATV mud tire, with monstrously deep 1 ½ inch tread blocks shaped sort of like claws, and some very cool "tribal-inspired" embossed artwork on the carcass between tread blocks. The artwork probably won't help with traction any, but it looks outstanding. The ITP Mega Mayhem features a 6-ply rating for good puncture-resistance, and it's versatile for a mud tire, with decent performance on all-terrain, intermediate trails, soft/loose terrain – even snow. 28 inch models exist for wheels measuring 12 and 14 inches in diameter.
3. Kenda Executioner (14 in. wheel)
The Kenda Executioner is a tough, high-performance mud tire aimed more at UTVs than ATVs, with 28 inch options exclusively for 14 inch wheels, but it's entirely deserving of a spot on this list. It boasts more than an inch of tread depth, delivering outstanding traction in even the most grueling muddy conditions, and the tread knobs are reinforced to offer excellent longevity and to resist rollover at lower pressures. The Executioner also features a 6-ply rating with a tough, rugged carcass for superb puncture protection, and the tread blocks are dimpled for decent dry-trail performance, too. Couple all that with the reputation of a brand like Kenda and it's easy to see why the Kenda Executioner is among the best 28 inch ATV mud tires available today.
4. High Lifter Outlaw (12 in. wheel)
Leave it to High Lifter, one of the best-known brands in ATV and UTV suspension lift kits, to make some of the best 28 inch ATV mud tires. The High Lifter Outlaw features the same 6-ply rating and durable, puncture-resistant carcass as many of its competitors, but it's built lighter, robbing less of your hard-earned horsepower and yielding improved handling and braking response. Its rounded-tip, paddle-like tread blocks are a full 1 ¼ inches in depth, and they're "cupped" to help propel your ATV forward rather than cutting into the mud and just digging a big, messy hole. With plenty of flexible void area for self-cleaning, and staggered tread blocks for plenty of contact patch outside of the mud puddle, it's easy to see why the High Lifter Outlaw is one of the most popular ATV mud tires around.
5. SuperATV Terminator (12/14 in. wheel)
The SuperATV Terminator means business, but despite its obvious mud-slinging acumen, SuperATV bills the tire as one that's "perfect for mud and great for everything else." That's largely thanks to its strong center tread lug design, which makes the Terminator shockingly smooth outside of the mud pit. These 28 inch ATV mud tires are sized to fit 12 and 14 inch wheels, and they're molded from a specially tuned rubber compound that delivers excellent longevity along with plenty of mud-terrain performance. As capable as it is aggressive-looking, and 6-ply-rated for strength, the SuperATV Terminator can take your ATV's mud performance to the next level.
6. Sedona Mudda Inlaw (14 in. wheel)
To put it mildly, the Sedona Mudda Inlaw is absolutely insane. Unique to this segment, it features an 8-ply rating and radial construction, lending it superior handling and ride quality compared to its 6-ply bias competitors. But even more impressive is its deep 2 inch center tread lugs, which grow to 2 ¼ inches at the outer edge, to provide unparalleled mud paddling capability. With a durable, long-lasting carcass, and more tread per square inch than we're used to seeing on a tire of this sort, the Sedona Mudda Inlaw is in a league of its own among 28 inch ATV mud tires.
We are committed to finding, researching, and recommending the best products. We earn commissions from purchases you make using the retail links in our product reviews. Learn more about how this works. Aaron Brzozowski
Aaron is a freelance writer, videographer and car enthusiast based out of the Detroit area. He has a special affinity for the Porsche 944 series, and once owned a Volvo 240 sedan with a Weber carb in place of the factory EFI system. His work has appeared on AutoGuide, GM Authority, /Drive, and VW Vortex, among other sites.
More by Aaron Brzozowski
Published November 5th, 2020 1:26 PM
Top Brands
Popular Articles