202 Views
Best 8 Ply Tires for ATVs and UTVs for Long-Lasting Performance
April 7th, 2021 5:44 PM
Share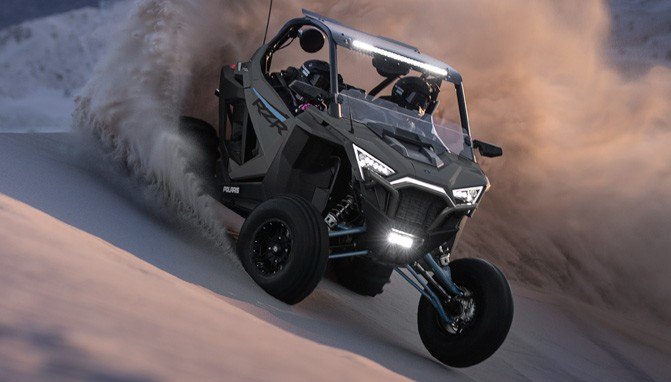 Durability and strength are hallmarks for these UTV tires
If you routinely find yourself throwing more at your UTV than its basic 4 or 6 ply-rated stock tires can handle, then a set of 8 ply tires might be for you.
A tire's ply rating is, in essence, a reflection of how strong and heavy-duty it is. That number used to refer to how many layers of rubber and reinforcement material were used in a tire's construction, although as manufacturers moved away from cotton reinforcement and toward materials like steel, nylon, and polyester, the number has become more symbolic, and 8 ply tires don't necessarily contain 8 plies. Rather, they deliver strength on par with what could be expected from 8 ply cotton-reinforced tires.
That said, ply rating is a crucial number for the UTV enthusiast, and the sort of 4 and 6 ply tires that come fitted as factory equipment on many machines simply don't have the strength, longevity, and puncture-resistance that many of today's riders demand. Thankfully, the market is flush with 8 ply tires in a range of styles, from an array of reputable manufacturers, so there are plenty of great options out there – if you know where to look.
Here, we've compiled a list of the best 8 ply tires on the market. Of course, if you've got a large Utility ATV, you can also consider these to be 8 ply ATV tires.
Table of Contents
1. Editor's Choice: Tusk Terrabite
You don't normally expect to see a budget-friendly tire at the top of a list like this, but the Tusk Terrabite has earned an excellent reputation and is a solid choice if you are in the market for a set of 8 ply UTV tires. The Terrabite is known for delivering a smooth ride on hard-pack surfaces with its truck-style tread (3/4" tread depth). Throw in some solid shoulder and side wall tread and you have a tire that can find traction almost anywhere. And with its 8-ply rated carcass, it is built to last for many rugged off-road miles.
The GBC Dirt Commander is a standout on this list for one very simple reason: where the rest of these tires utilize radial construction, the Dirt Commander is a bias-ply tire. That means more load-carrying capacity and superior puncture resistance next to a comparable radial tire – attributes that make bias construction the favorite among most hardcore off-roaders. Not that that's the Dirt Commander's only virtue, of course; these 8 ply ATV tires also boast deep sipes and aggressive biting edges for excellent traction no matter the terrain, from grass and dirt to mud, rocks, and creek beds.
Despite its name, it's not meat that the Maxxis Carnivore subsists on; it's a steady diet of rocks, roots, dirt, and sand from the most extreme terrains your UTV is likely to encounter. The Carnivore is a true light truck-inspired tire, engineered to thrive in the sort of barren, hard-packed conditions that permeate the western United States. That means these 8 ply UTV tires feature a durable, long-wearing rubber compound that delivers excellent traction on rocks, roots and hardpack. And the eight-ply rating delivers superb puncture resistance and strength, while radial construction provides both comfort and handling performance.
If it's go-anywhere, handle-any-terrain versatility you're looking for from your next set of ATV or UTV tires, the Kenda Mastodon AT will deliver. It's a true all-terrain tire, with an uncommonly aggressive tread design featuring plenty of wide-open void area for excellent clean-out in the mud, and the sort of expansive contact patch that lends itself to good traction and durability on harder packed trails. Its radial construction means the Mastodon AT is comfortable, predictable at higher speeds, and adept at cornering. Where "all-terrain" typically means a compromise between mud and hardpack performance, these 8 ply ATV tires can truly deliver over all terrain.
5. ITP Blackwater Evolution
As 8 ply UTV tires go, ITP's Blackwater Evolution has one of the most expansive, varied skill sets out there. ITP boasts that the Blackwater Evolution is suitable for everything from soft and loose to intermediate surfaces – from mud and snow to rocks and ruts – whether you're racing on it, or just simply cruising. That's quite the repertoire, and it's bolstered by an aggressive tread pattern with lots of biting edges and plenty of void area for self-cleaning, and a tough rubber compound with excellent resistance to abrasion and wear. It's a true jack-of-all-trades, and it's available in a wide array of sizes to suit most any ride.
Well-known in the ATV community, EFX brings decades of manufacturing and performance experience to the table with each new tire design, and in our not-so-humble opinion, the EFX MotoClaw is the best, most versatile steward of EFX's excellent reputation. More than adequate in light mud, where the MotoClaw really shines is over soft and intermediate terrain, with strong, aggressive tread lugs to provide plenty of traction over grass, dirt, roots, and rocks. An impressively strong rubber compound, combined with the MotoClaw's 8-ply rating, provides outstanding puncture resistance and durability.
A bit on the pricey side, the Pro Armor Crawler XG is well worth the expense if you're looking for an exceptional rock-crawling UTV tire. The Crawler XG's aggressive, dense tread design provides more hard biting edges per square inch than a comparable all-terrain tire, and combined with the unique sidewall tread, that makes the Pro Armor Crawler XG perfect for hard surfaces like slick rock faces and hardpack trails. At the same time, these 8 ply UTV tires feature an Armor Belt radial construction that lends itself to impressive puncture resistance, and admirable dirt and sand performance from its dual-compound composition make the Crawler XG a rock-crawling tire you can use just about anywhere.
Another exceptional rock-crawling radial for UTVs, the Roxxzilla puts manufacturer Maxxis on our list for the second time. Perhaps more specialized than the Pro Armor Crawler XG, the Maxxis Roxxzilla features a soft compound specially formulated to deflect and find purchase on tough-to-grip rock faces. Two shoulder layers, a multi-layered sidewall, and a high void ratio in the center tread provide extra grip and puncture resistance, for some of the best rock-crawling performance available from a set of 8 ply UTV tires.
The Tensor Regulator is not your average all-terrain UTV tire, as Tensor is not your average tire manufacturer, being perhaps best-known in the world of desert racing. Lessons learned in that arena help make the Regulator a competitive, high-performance all-terrain tire, with a broad contact patch and deep shoulder lugs contributing to exceptional braking and cornering performance, and a staggered tread design bred for a smooth, comfortable, predictable ride. A set of Tensor Regulator tires isn't going to do you many favors if you ever get stuck in the mud, but if it's high-speed, hard-cornering performance you're after, the Regulator might be your best bet.
Recent Updates
April 6, 2021: Added Tusk Terrabite to the list and added a new FAQ.
We are committed to finding, researching, and recommending the best products. We earn commissions from purchases you make using the retail links in our product reviews. Learn more about how this works.
What air pressure should you have in 8 ply UTV tires?
We would typically suggest running between 12-18 psi on UTV tires, but never exceed manufacturer suggested ratings. Going towards the higher PSI range works best on hard-pack trails and faster driving. Lowering the tire pressure gets adds some extra cushioning to your ride and increases traction. You can drop below 12 or even 10 psi if you really want to get next-level traction, but you will want to have beadlock wheels if you do so the tires stay on the rim.
How long do UTV 8 ply tires last on pavement?
There's no one answer here, but just know that regular pavement driving will wear our your tires faster. We don't typically like to be on paved roads unless absolutely necessary (getting gas in a trail-side town or getting from one trail to another). UTV tires that are DOT approved should be used for any extensive paved road driving.
Published August 26th, 2020 2:02 PM
Top Brands
Popular Articles