1.7K Views
May 31st, 2023 10:36 AM
Share
We're committed to finding, researching, and recommending the best products. We earn commissions from purchases you make using links in our articles. Learn more here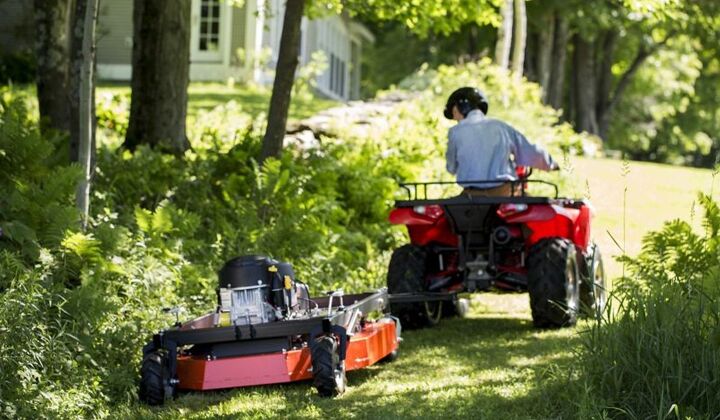 Clear a path with these tow-behind powerhouses
Cutting grass is one thing, but if you need to clear out some more extensive brush, you need a brush mower. As you know, your ATV is a versatile machine, and you can get a tow-behind brush mower that can make quick work of everything from weeds, shrubs and small trees, as well as stumps and, yes, grass. There are several types of brush mowers available, from finish mowers, rough cut, flail and more. Which one is perfect for your needs? We're here to help you decide which of the best ATV brush mowers is right for you.
1. Editor's Choice: Swisher Rough Cut Trailcutter
The difference between the Swisher Rough Cut mower and the Trail Pro Finish mower has to do with the severity of the job. This mower is designed to take down really hard core brush and small trees, so when you have a seriously overgrown patch, this is the right tool for the job. It has the same 14.5 horsepower Kawasaki motor as it's more refined sibling, but this unit has a 52-inch cutting surface and a three-point cutting height adjustment of 4-, 5.5- or 7-inches. Helping to keep this unit on task, it comes with a heavy-duty stump jumper to protect the blades should things get too difficult. The two break-away swinging blades cut most stems and trunks up to three inches in diameter, too. Swisher relocated the battery and solenoid to help protect them from the conditions, too, because this mower is going to be used in some rough stuff.
Pros
Designed to cut in thick, nasty brush
Cons
Not a finish mower at all
Bottom Line
If you need to clear the thickest, nastiest brush on your property, this is the right tool
2. Best Finish Mower: Swisher14.5 HP Pro Trail
When you have serious brush to cut, you want this mower from Swisher. It is powered by a 14.5 horsepower, 603cc Kawasaki V-twin industrial motor that makes quick work of and brush along the trail. It has a wide, 60-inch cutting surface and a 66-inch wide deck with a side discharge. It is a true floating deck, so you have a clean, professional-quality cut with little to no scalping that can come from high-siding terrain and cutting everything down to the dirt. Three commercial-grade mulching blades help chop everything into a nicer-looking base. A 2.5 gallon fuel tank means you have less down time while cutting, too. That's a big help especially during the heat of the summer. There is an easy-to-use height adjustment from 1-5.5 inches and you can easily articulate the towing hitch for a straight behind, left or right side pull, too. When you need to clear out the brush, this is an outstanding choice for the nastiest stuff.
Pros
Rugged construction. Powerful motor. Easy adjustment.
Cons
Mower deck height maxes out at 5.5 inches
Bottom Line
A great, commercial-grade brush mower
Brush mower vs. lawn mower
Let's start off with the obvious - a lawn, or finish mower is designed to cut grass. I know what you're thinking, "Well, duh, Sigler!" It's deeper than that, though. A lawn mower deck is geared toward the basic resistance of cutting grass. The engineers involved know that occasionally, you're going to get into stuff that is thicker than your average lawn, but if you've ever had your mower deck clog with grass, you know what I mean. If a handful of grass clippings can cause a mower blade to stop spinning, it isn't designed to cut a rough, overgrown trail. As a safety feature, the blade of a lawn mower only take so much kick-back force before the blade stops spinning.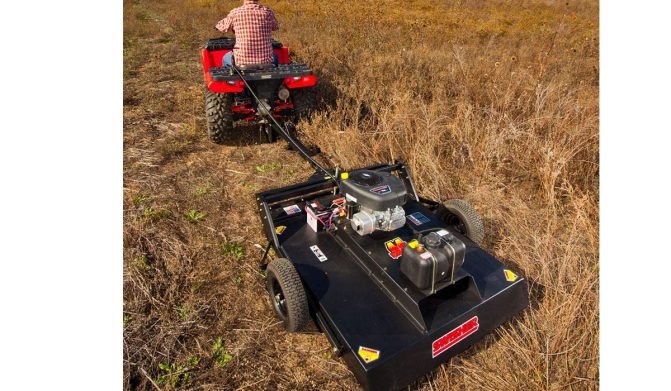 An ATV pull-behind brush mower is much stouter in design. The mechanism is designed to force a cutting blade through materials much thicker than a blade of grass and not stop. In fact, most brush mowers can take down a sapling up to three-inches thick without batting an eye. The engines may be the same, power wise, as a traditional pull-behind finish mower, but the transmission, spindles and bearings on an ATV brush hog are all far more stoutly built than a grass mower.
There are pull-behind brush mowers that serve as a finish mower, too. These have slightly different blade designs to help give the cut grass a cleaner, finished look. Is there a downside to these types of mowers? Most reviewers feel the brush cutting prowess of these is slightly diminished.
The advantages of owning a brush mower
This is kind of an easy thing to answer. Hunters are always looking at ways to make food plots, or improve habitat. One of the best ways to do so is to clear land before plowing it under and reseeding it. This is where an ATV brush mower comes in. It is better than using a chemical alternative as it keeps that stuff out of the soil, and it helps create a natural base for new plant life to grow. And it's not just hunters looking at this; its anyone looking to make habitat better for wildlife, farm animals, or even just more appealing to use.
From a land management side, a brush mower is a great tool to use for breaking new trails. Imagine how long it would take to cut a 44-inch wide path along even one mile of new trail – by hand? That is an all-day job. A pull behind brush mower would take maybe 20 minutes…if that. This particular mower has two break-away swinging blades in case you hit a major stump, and a remote control to make things easy.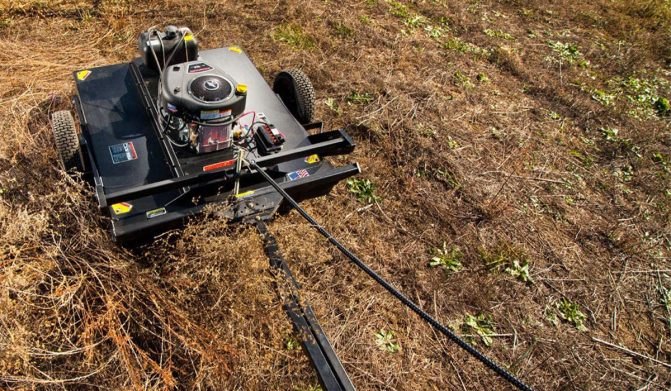 An ATV makes the perfect platform for using one of these types of mowers, as an ATV in the hands of anyone experienced can go just about anywhere you'd ever need to cut brush. You've probably seen a brush hog being used behind a tractor. Well, your ATV or UTV can go anywhere a tractor can, and a lot of places it can't. Plus, if you don't have a tractor, they aren't cheap.
I'm not going to beat around the bush here – a pull behind brush mower is not cheap. There are a few different manufacturers, but know that if you find one that is not very expensive, there's a decent chance it won't work as well as you'd like. Breaking trails and such is serious work that requires serious equipment, but you'll end up finding more uses for your ATV brush hog than you'd expect. Plus, you can be the cool guy that has one and helps all of his friends.
What type of brush mower do I need?
The best answer is - look at what you intend to cut. Think of the thickest brush and overgrowth you will mow and get the mower best suited to that terrain.
Flail mowers
If a brush mower isn't exactly what you need, another option is a pull-behind ATV flail mower. The two are often confused with each other, but they have some design differences worth noting. Where a brush mower essentially operates like a larger, tougher lawn mower with a rotary blade(s), a flail mower has Y- or T-shaped blades that are attached to a rotating axle.
The main advantage of flail vs. a blade is that they will bounce off of a solid object (like a large rock) and not be damaged. They are also good at keeping dust down and the cut material is held under the mower longer than with a brush mower, so it is more thoroughly shredded and distributed across the full width of the mower.
ATV Flail mowers are particularly useful when dealing with areas that are overgrown with vines and other types of vegetation – things that tend to get hung up in a brush mower.
What is the difference between a finish mower and a rough cut mower?
Finish mowers cut with an edged blade that makes a smooth cut on the grass and brush. A rough cut mower uses bladed that are far more blunt, using direct force to pulverize brush and grass.
Recent Updates
05/31/2023: Updated product descriptions and removed obsolete product.
We are committed to finding, researching, and recommending the best products. We earn commissions from purchases you make using the retail links in our product reviews. Learn more about how this works.
Become an ATV insider. Get the latest news first by subscribing to our newsletter here. Derrek Sigler
Derrek's love for all things ATV started when he was a mere 11 years old, growing up on his family farm. His mom gave him and his sister a choice - get a horse, or a three-wheeler. The sister wanted the horse, and Derrek wanted the ATV. Luckily he won out, and was soon burning up the trails on a Yamaha Tri-Moto 200. By the time he was 14, he had saved enough of his own money by working on the farm and in his folks restaurant to buy a new 4-wheeler. That happened the day he and his mom were driving past the dealership and saw 1987 Banshee. His mom had no idea what he was buying, and he never looked back. He's been riding ever since, and been writing professionally for many years. He has ridden all over North America and been behind the controls of just about every machine out there. And yes, he still has his 1987 Yamaha Banshee.
More by Derrek Sigler
Published May 31st, 2023 10:36 AM
Top Brands
Popular Articles