234 Views
Best ATV Cargo Carrier Options
May 25th, 2021 12:11 PM
Share
We're committed to finding, researching, and recommending the best products. We earn commissions from purchases you make using links in our articles. Learn more here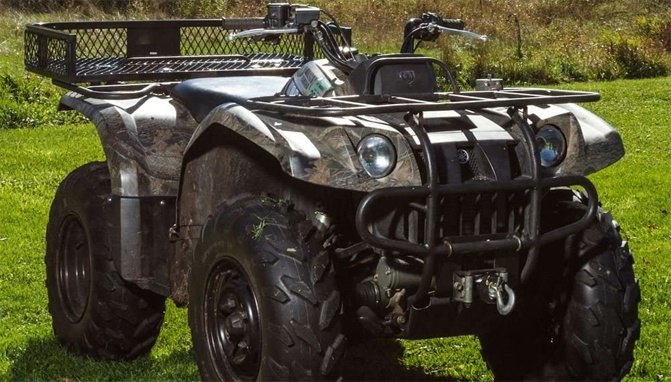 Add more storage space to your ATV with a cargo carrier
If you're looking to maximize the usefulness of your four wheeler, an ATV cargo carrier is one way to do it.
Typically, if it's a workhorse you're looking for – something to haul firewood or carry a tree blind out into the woods – you get a utility side-by-side. But that's not to say that a one-seat ATV isn't a practical, versatile tool, and an ATV cargo carrier can take it to the next level. These simple, durable carriers typically install into your ATV's hitch receiver, or mount onto your vehicle's factory rack, front or rear. That's three different options for where you're able to place your cargo to best optimize the limited space on your ATV and maintain a suitable weight balance and good visibility.
To help you make heads and tails of the ATV cargo carrier market so you can get exactly the right unit for your ride, we've put together this list of the best cargo carriers available today, hitting on all three possible mounting locations.
Lead image by Irina Maksimova/Shutterstock.com
1. Editor's Choice: Black Widow ATV Rear Rack
A sturdy, spacious rear ATV cargo carrier that mounts easily to your vehicle's rear rack, the Black Widow ATV Rear Rack is 20 pounds of simple, durable practicality at a fair price. Black Widow knows a thing or two about manufacturing durable steel structures; the company was founded in 2003 with the goal of designing and building the perfect bike ramp. All these years later, Black Widow's product portfolio has grown to include things like this ATV cargo carrier, which boasts a rigid, heavy-duty steel frame, a lightweight, easy-to-clean steel mesh lining, and a black paint finish to protect the rack from the elements so that it can deliver years of trouble-free service.
2. Best Cargo Basket: Titan Ramps Rear Drop ATV Cargo Basket
If you're looking for a rear rack-mounted basket but you need more space than what the Black Widow rack can deliver, this ATV cargo carrier from Titan Ramps is a perfect fit. It's only marginally more expensive, yet it offers significantly more cargo volume and the ability to accommodate taller items thanks to a dropped rear portion. Like the Black Widow carrier, it includes the requisite mounting hardware and installs easily on most tubular rear racks, with durable all-steel construction and a protective black paint finish to ward off the elements. It's a bit on the heavy side, which is something you'll want to take into account especially if you ride a lighter-weight ATV model, but well worth the trade-off if you need the extra space.
3. Best Cargo Box: Black Widow Locking ATV Cargo Box
While not strictly an ATV cargo carrier, the Black Widow Locking ATV Cargo Box is worth a mention. It's the perfect solution for riders seeking something that can stow, lock, and keep your precious cargo safe from the elements, not to mention would-be thieves. Made from durable, high-density polyethylene with a built-in cushioned backrest that gives your ATV even greater comfort, the Black Widow Locking Cargo Box tips the scale at just 19 pounds and accommodates more than 5 and a half cubic feet of cargo, with a weatherproof tongue and a groove seal to keep everything nice and dry no matter the conditions. It installs easily on most factory rear racks, and gives your ride a versatile, practical locking trunk that's built to last.
4. Kolpin ATV Front Rack Gear Basket
Do you have some cargo you'd just as soon keep up front, in plain sight while you ride? Not a problem; Kolpin offers this front-mounted ATV cargo carrier to do just that. Sized just right to sit ahead of the handlebars on most production ATV models and hold up to three 5-gallon buckets, essential tools for the field, or whatever else you need to transport, this cargo basket has an attractive one-piece welded steel design with a protective black powder coat finish. It's lighter than any other carrier on this list at just 16 pounds, which is a good attribute for something that's going to be hanging off the front of your vehicle – or the back, depending on where you choose to mount it. No matter which end you choose to mount it on, all the necessary hardware is included, although as with any "universal" product, some light modification may be required.
5. Guide Gear ATV Cargo Carrier
If you have a hitch receiver installed on your ATV, that opens up a whole world of new possibilities when it comes to selecting the right ATV cargo carrier, making available options like this ATV hitch cargo carrier from Guide Gear. The carrier features a raised hitch bar to maintain some ground clearance, an impressive 300-pound carrying capacity, and anti-wobble technology within the receiver tube to minimize rattle as you haul your gear over any sort of terrain. And despite everything, it's inexpensive, with a price tag far below what you'd expect for this level of quality. This carrier measures 48" x 19.25" x 4.75".
6. Curt Tray Hitch Cargo Carrier
If you're looking for more of a tray-style ATV hitch cargo carrier – something without tall walls that can accommodate items of a larger size – then the Curt Tray Hitch Cargo Carrier is right for you. It delivers the same 300-pound max. weight rating, and despite being made from steel rather than aluminum, it's plenty light, making one-person installation possible. Better, it's adaptable to both 1-1/4-inch and 2-inch hitch receivers, thanks to the included shank, and it's finished with an E-coat underneath a durable black powder coat finish for outstanding corrosion resistance. It's a durable, premium ATV cargo tray at a not-so-premium price.
Cargo Carrier vs. Cargo Basket vs. Cargo Box
There are a lot of ways to haul things on your ATV and we looked at three different styles in this article: cargo carriers, cargo baskets, and cargo boxes. But which is best? That all comes down to what you need. A cargo carrier is the simplest solution, as it offers a fairly open area with very short walls. This makes it easy to access what your are hauling, but you will likely need to tie it all down snugly so you don't lose anything on the trail. You can also get some cargo carriers that attach via your receiver hitch, which means you keep your front and rear racks open for other storage needs.
A cargo basket is very similar to the cargo carrier, but has higher walls. This allows you to carry more things without necessarily having to tie them all down, but it's not ideal if you need to haul something larger than the actual basket.
Finally, a cargo box has four walls and a lid. Many are fully sealed from the elements, so they won't get wet or muddy while you ride. As a cargo box is completely closed, you are more limited in what you can carry, as it all has to fit inside and not come out the sides or the top. But if you want to keep your stuff protected from the elements, it's the best choice.
Recent Updates
March 29, 2021: Added some info on the different types of ATV storage solutions. Replaced the Gear Guide aluminum carrier (no longer available) with the steel variant.
We are committed to finding, researching, and recommending the best products. We earn commissions from purchases you make using the retail links in our product reviews. Learn more about how this works. Aaron Brzozowski
Aaron is a freelance writer, videographer and car enthusiast based out of the Detroit area. He has a special affinity for the Porsche 944 series, and once owned a Volvo 240 sedan with a Weber carb in place of the factory EFI system. His work has appeared on AutoGuide, GM Authority, /Drive, and VW Vortex, among other sites.
More by Aaron Brzozowski
Published January 15th, 2021 12:25 PM
Top Brands
Popular Articles