1 View
March 30th, 2021 2:39 PM
Share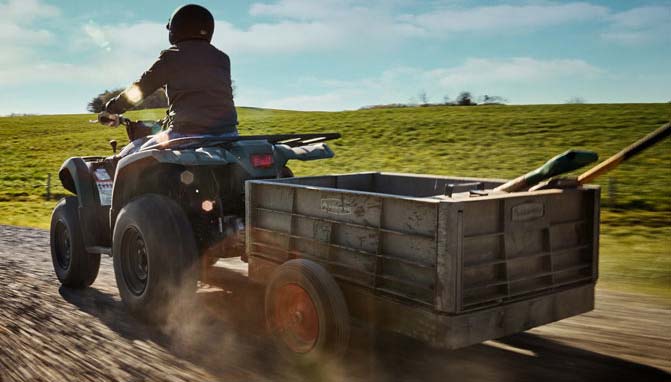 Increase your ATV's hauling ability with one of these hitches
The installation of an ATV hitch can greatly expand the versatility of your favorite UTV and ATV by allowing it to pull small trailers, seed spreaders, log skidding arches, and other tools, allowing you get more done around your property. More than just a toy for recreational off-road driving, the ATV, it turns out, is perfectly sized for use on smaller farms and in forested areas, with enough pulling power to do some real work.
That said, actually shopping for an ATV hitch can be a bit difficult. There are scores of different manufacturers with options on the market, and even if you're generally familiar with a lot of the biggest ATV accessory brands, chances are good that you'll have never heard of many of them. And beside that, the sort of ATV hitch you'll want to put on your ride will depend largely on what sort of implement you're trying to pull.
The good news is that you don't have to shop the hitch market all by your lonesome. Here, we've rounded up the best ATV hitch options on the market today, covering all the major styles and a range of reputable manufacturers, so you can leave all the guesswork out of your shopping.
Table of Contents
1. Black Boar ATV/UTV Ball Mount
Simple, affordable, and well-built: those are the hallmarks of a well-made ATV hitch, and they're all present and accounted for in this multi-hitch from Black Boar. It's available with either a 1 ¼" shank or a 2" one, so no matter what sort of receiver hitch is on the back of your ATV, you're covered. Better still, it's made from durable, powder-coated steel, for years of reliable service and excellent corrosion-resistance, and each version offers a combination of a ball, winch strap loop, and 5/8" pin hole for maximum flexibility.
2. Coleman ATV/UTV 3-Way Hitch
Best known for their excellent line of camping and outdoor equipment, Coleman offers this 3-way ATV hitch that gives you multiple mounting height options so you don't have to worry about impacting your ground clearance. The unit doesn't include a hitch ball, but it does feature a ball mounting hole, and there are certain advantages to bringing your own ball. Not having a ball welded in place allows you to swap out one ball for another if yours ever gets damaged or corroded, or if you need to step up from, say, a 1 7/8" ball to a 2" one. Additionally this ATV hitch gives you the ability to haul using a pin or a tow strap. The rest of the unit is made from powder-coated steel for durability and protection from the elements, and it installs via a simple bolt attachment system instead of a shank.
A reputable brand in the world of ATV and UTV accessories, Kolpin has taken a slightly different tack with this supremely affordable, versatile multi-hitch. Featuring a 2" shank that makes it compatible with the majority of receiver hitches out there, this ATV hitch has the usual 5/8" pin hole and a ¾" hole for equipping a ball, but it also boasts a pair of sturdy side loops for use with tie downs, tow straps, or safety chains. That, plus the absence of a welded-on hitch ball, makes this one of the more flexible ATV hitch options out there, at a price that your wallet is sure to appreciate.
4. Curt 3-in-1 ATV/UTV Trailer Hitch Mount
One of the best-known and most respected names in hitches and other towing equipment, Curt has put together this first-rate ATV hitch package, which includes everything you should need to throw a 1 7/8" ball on just about any ATV. That's all thanks to an included 2" receiver tongue adapter, which attaches to most any standard ATV hitch tongue and adapts it to accept a 2" square shank. Also included is a 3-in-1 hitch with a ball, winch strap loop, and 5/8" pin hole, and both major components are protected from the elements by a durable, high-quality black powdercoat finish.
5. Curt Bolt-On 2" ATV/UTV Trailer Hitch Receiver Adapter
If you've already got a good ball mount and you just need the 2" receiver to make it fit, Curt also offers their simple bolt-on 2" ATV hitch receiver adapter as a standalone product. It's identical to the one included in their ball mount/receiver package, with the same rugged thick-gauge alloy steel construction, winch strap loop, and black powdercoat finish, and the price is hard to argue with.
6. Kolpin Universal ATV IRS 2" Receiver Hitch
Looking for other ways of accepting a 2" shank on the back of your ATV? Kolpin offers this "universal" receiver hitch for ATVs with independent rear suspension. Unlike your typical light-duty hitch receiver, this one actually mounts directly to the frame of your ATV, giving you a more sturdy, robust attachment point. Granted, "universal" rarely holds true for 100% of all cases, so Kolpin encourages customers to check their fitment notes before ordering, but if your ATV is covered, this is hands down one of the best 2" shank ATV hitch receiver options around.
My ATV already has a 1 1/4" hitch. Do I have to install a larger receiver to tow a trailer?
If you're pulling a fairly light load on your trailer, a 1 1/4" receiver should be fine for you. If you're doing work that requires you to pull heavier loads, it's better to go with a larger hitch for better safety, security and hitch options.
I want to buy an ATV to do haul a trailer around my property for work. What do I need to look for?
This all depends on how much of a load you intend to haul. Obviously the heavier the load, you'll want a larger displacement machine to handle it. When you're shopping, be sure to look at the load and towing capacity of each machine to help make your decisions a little easier. Then look to see what the stock hitch systems look like, if they even have one. You might find a unit that has great towing capacity but does not even have a receiver, so you'll have to purchase an aftermarket unit and have it installed.
We are committed to finding, researching, and recommending the best products. We earn commissions from purchases you make using the retail links in our product reviews. Learn more about how this works.
Published March 30th, 2021 2:34 PM
Top Brands
Popular Articles