539 Views
Best ATV Mud Tires For Getting Through The Slop
April 26th, 2022 7:14 PM
Share
We're committed to finding, researching, and recommending the best products. We earn commissions from purchases you make using links in our articles. Learn more here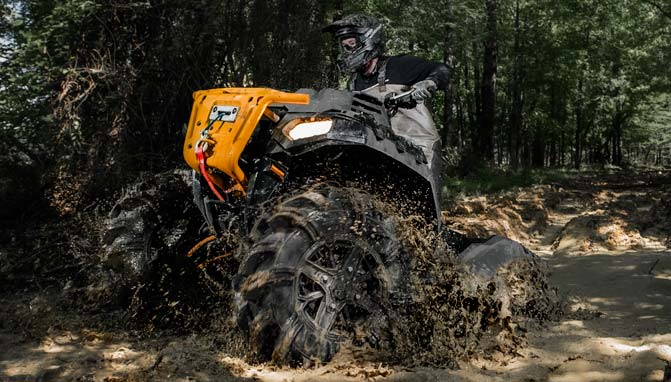 The right tires can make short work of the muddiest trails
If you've never gotten over the desire to play in the mud, make sure you have the best ATV mud tires you can find to get you through the slick stuff.
Who doesn't like playing in the mud? Riding an ATV in that wonderful concoction that comes from blending dirt with water is something some of us have never outgrown. It's just that now, our toys have gotten more advanced and expensive. Riding in mud with an ATV is a whole lot of fun. If you're serious about your mud time fun time, it may be time to invest in the best mud tires you can afford.
ATV mud tires are some highly specialized rubber. They have aggressive tread patterns and can tear apart a lawn in quick order. You also want a tire that self-cleans, letting the tire do what it is supposed to do – get traction anywhere possible.
Some ATV mud tires are no fun to take on a normal trail due to their tall lugs. Also, the bigger the mud tire, the more power you'll need to move them. It's a delicate balance, but fortunately the aftermarket has built a mud tire for everybody from casual riders to riders with mud coursing through their veins.
Below, we look at what we think are the best mud tires for ATVs available today.
1. Editor's Choice: ITP Mayhem
We chose the ITP Mayhem line as our favorite because it offers a great combination of performance in the mud and comfort on the trails. ITP has multiple tires in the Mayhem line, including the Mayhem, Mega Mayhem, and Monster Mayhem. The Mayhem is the tamest of the bunch with a one-inch lug depth, followed by the Mega Mayhem (1.5-inch lug depth), Monster Mayhem (1.75-inch lug depth), with tire weights ranging from 25 to 40 pounds.
27X9-12; 27X11-12; 27X9-14; 27X11-14
28×9-12; 28×11-12; 28X9-14; 28X11-14
2. Best Extreme ATV Mud Tire: High Lifter Outlaw II
High Lifter knows mud tires better than just about anybody. This extreme ATV mud tire has a tread that wraps all the way to the rim for added traction in the slop. It also has massive 2.5-inch lugs that are designed to bite in the muck and clear it away on every rotation. Keep in mind, however, that these are serious mud tires and they will add a good deal of rotating mass to your ATV. Make sure your ATV engine has enough oomph to handle these.
High Lifter Outlaw II Sizes
Going extreme? Try an STI Tire & Wheel Outback MAX. These tires are 8-ply for extreme puncture resistance and have tread that is up to two inches deep. If you get stuck running these tires on your ATV, you're riding somewhere you shouldn't be.
Ok, the name is catchy, but seriously look at the tread! These are clearly some of the mud tires for ATVs you'll find anywhere. With two-inch deep tread that increases to 2-1/4-inch tread at the outside edge to give these meats some mud muscle right where you need it. The tough 8-ply carcass helps prevent punctures, too. The tread has enough to it to make these tires stable and smooth riding between mud sections as well, making them great tires for mud-filled trails. If you are in the market for some extreme ATV mud tires, the Mudda InLaw should be on your short list.
Maxxis Maxxzillas come in a 6-ply design to help reduce the risk of punctures when you encounter something under the goo that you didn't expect. The deep, 3-D directional tread pattern digs into the mud and pushes it out and away from the tire, giving you great bite when you need it most. The tread on these ATV mud tires is also designed to flex in the areas mud would accumulate, helping to "self-clean" the tire.
The Kenda Executioner ATV mud tire has tread depth ranging from 0.8 to 1.2 inches, depending on size. It is an aggressive tire with a 6-ply rating and reinforced knobs designed to reduce knob rollover at low pressure.
7. ITP Mud Lite Mud Tires
ITP has four different Mud Lite models, each in a wide variety of sizes. The Mud Lite AT is the most comfortable on the trail with 0.75-inch lugs, followed by the Mud Lite XL with 1.125-inch lugs, and the more aggressive Mud Lite XXL with 1.3-inch lugs. ITP says the Mud Lite XTR is the industry's first extreme terrain radial tire, boasting 1.125-inch lugs. Anything in this line is on the short list for the best mud tires for ATVs.
22X11-8; 22X11-9; 22X10-8; 22X11-10
23X8-10; 23X10-10; 23X8-11
24X11-10; 24X8-11; 24X9-11; 24X10-11; 24X8-12
25X12-9; 25X11-10; 25X8-11; 25X10-11; 25X8-12; 25X10-12
25X12-11; 25X8-12; 25X10-12; 25X12-12
26X9-12; 26X10-12; 26X12-12
27X9-12; 27X10-12; 27X12-12; 27X10-14; 27X12-14
28X10-12; 28X12-12; 28X10-14; 28X12-14
30X10-12; 30X12-12; 30X10-14; 30X12-14
27X9R-12; 27X11R-12; 27X9R-14; 27X11R-14
The CST Wild Thang ATV mud tire features an aggressive tread that extends over its shoulder for superb cornering grip, and tough bite in muddy conditions with a tread depth just over 1-inch and rugged 6-ply rating. While it was primarily designed as a mud tire, a review on the CST website claims "Rocks, deep mud, ruts, coal hills, slick rock climbs, deep water/creek crossings and fast fire roads were all home to these tires."
27X9-12; 27X11-12; 27X10-14; 27X12-14
28X10-12; 28X12-12; 28X9-14; 28X11-14
9. GBC Spartacus Mud Tires
The GBC Spartacus boasts 8-ply radial construction and is designed specifically for mud and other tough terrains. Its tread depth is slightly less than one inch and it's relatively light in weight (22.1 – 33.7 pounds) - a bonus for ATV mud tires.
26X10-R12; 26X12-R12; 26X9-R14; 26X11-R14
10. SuperATV Assassinator Mud Tires
When it comes to extreme ATV mud tires, the SuperATV Assassinator definitely looks the part. Seriously, just look at these tires! Three-inch deep tread with an open design; how could these tires not just flat-out rip through the goo and slop? These are highly specialized tires made for mud, mud and more mud. However, they can handle some non-mud trail use on a limited basis thanks to a strong center-tread design. They are tall and narrow, just like the best mud tires should be. If you're a serious mud master, this is a tire you should look at. Just make sure your ATV has enough engine to handle them and you have enough clearance to run them.
SuperATV Assassinator Sizes
Recent Updates
04/26/2022: Updated product links, added new product (maxxis maxxzilla)
March 12, 2021: Added several new tires to the list and included available sizes for all of the tires.
Become an ATV insider. Get the latest news first by subscribing to our newsletter here.
We are committed to finding, researching, and recommending the best products. We earn commissions from purchases you make using the retail links in our product reviews. Learn more about how this works.
What makes a good mud tire?
When you want to tackle to the deepest mud pits, the best mud tires for ATVs and UTVs all share a few things on common. First, they need tall lugs to help push your vehicle through the slop. But there can be a point of diminishing returns. While the Super ATV Assassinator tires can be absolute killers in the mud, tires with three-inch lugs like these tend to be heavy. That means our vehicle's engine has to work harder to turn them, so these should be restricted to high-powered ATVs and UTVs that can deliver all that power.
How does lug spacing help mud tires perform?
Another common trait of the best 4wheeler mud tires are lugs that are well spaced out. When a tire's lugs run close together, the mud tends to get stuck in between, which weighs the tire down and negatively impacts traction. Good spacing between the lugs helps the tires shed mud as they spin, keeping the weight down and providing better grip in the slick stuff.
How important is a mud tire's carcass?
Another feature held by the best ATV mud tires is a tough carcass. Whether it be a 6-ply or a super beefy 8-ply design, quality mud tires are built to take a beating. What good is a mud tire if it can't stand up to the occasional errant stick or jagged rock? It doesn't matter how big the lugs are if your tires are flat.
How big of a tire can I fit on my machine?
There are a number of factors to consider when increasing the tire size on your ATV. How much clearance do you have from the tire to frame when you're turning? Do you have to purchase new wheels to get the tire size you want? Is your machine even capable of pulling the tire size you're looking at? Chances are you're not the only person riding at your spot so look around and see what others are doing to their machines to help make your decision.
Do ATV mud tires only work in the mud?
Absolutely not! While some of these tires perform their best in deep mud, many of them were designed for great performance in a variety of conditions, but have features to perform better than a standard all-terrain tire in slippery, muddy terrains. Derrek Sigler
Derrek's love for all things ATV started when he was a mere 11 years old, growing up on his family farm. His mom gave him and his sister a choice - get a horse, or a three-wheeler. The sister wanted the horse, and Derrek wanted the ATV. Luckily he won out, and was soon burning up the trails on a Yamaha Tri-Moto 200. By the time he was 14, he had saved enough of his own money by working on the farm and in his folks restaurant to buy a new 4-wheeler. That happened the day he and his mom were driving past the dealership and saw 1987 Banshee. His mom had no idea what he was buying, and he never looked back. He's been riding ever since, and been writing professionally for many years. He has ridden all over North America and been behind the controls of just about every machine out there. And yes, he still has his 1987 Yamaha Banshee.
More by Derrek Sigler
Published April 1st, 2020 5:10 PM
Top Brands
Popular Articles