136 Views
Best ATV Sand Tires For Dune Riding
May 19th, 2022 12:36 PM
Share
We're committed to finding, researching, and recommending the best products. We earn commissions from purchases you make using links in our articles. Learn more here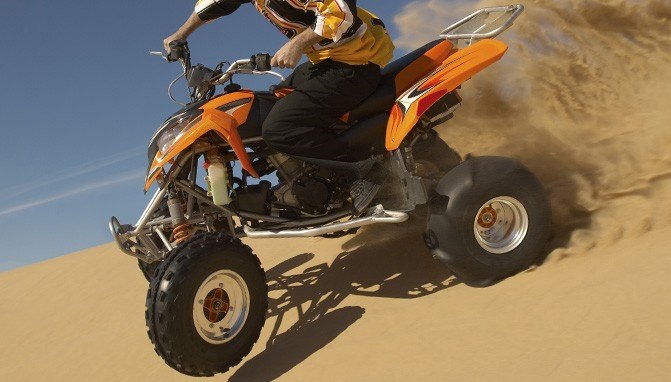 Conquer the desert and dunes on your four-wheeler
If you plan on outfitting your ATV for serious sand duty, you're going to need a good set of ATV sand tires. As versatile as many all-terrain tires are, they could more accurately be called "most-terrain" tires – perfectly suitable for use on soft- and hard-pack trails, and able to cope with some rocks, gravel, and light mud, but their performance can suffer in loose sand.
The unique challenges that sand poses can best be understood by taking a look at the design and construction of ATV sand tires. Most often, the rear tires are "paddle tires," with half-a-dozen or more tall paddles running the full width of the tire, helping it to literally "scoop" its way through the stuff. At the front, most often you'll find an entirely different sort of tire design, with one or more ribs running along the circumference to dig in and help carve out a path for the ATV to follow.
The bottom line is this: sand tires are highly specialized tools, and of course, not all are created equal. To help erase some of the mystery surrounding ATV sand tires, and to give you a jumpstart on your research, we've put together this list of the best ATV sand tires available today.
Table of Contents
1. Editor's Choice: Sedona Cyclone
Another excellent sand tire from a company with a sterling reputation, the Sedona Cyclone prides itself on offering superior strength and durability in a flexible package. In fact, the manufacturer calls the Cyclone's unique, premium rubber compound "magic." We don't know about all that, but we can tell you that the Cyclone is designed to offer exceptional flotation and predictable handling for a dune tire, with a nice, wide footprint and two extra deep front tire ribs with staggered blocks. The rear tires are fairly traditional, with eight deep, V-shaped paddles to shovel sand, but their calling card is their support ridges, which facilitate controlled slides without a total loss of control.
So what are owners of the Sedona Cyclone saying? The general consensus is that these are great ATV paddle tires for the money. They hook up well in both dry and wet sand, offer exceptional sidehill traction, and are impressively durable. Some owners say they find the Cyclone tires a bit heavy, which can effect performance in the sand.
The Skat-Trak Extreme is one of the best ATV sand tires available. It takes everything that's great about the company's popular Hauler model – notably, its lauded 7/8"-tall paddle profile and buffed carcass – and adds 1/8" of extra thickness at the paddle base. Not only does that mean the paddles are better able to perform on higher-powered machines; it also means that riders can count on improved paddle stability, for predictable handling at higher speeds. Granted, it's more paddle rigidity than the average ATV needs, and with a thicker paddle comes extra weight, so this tire is recommended for more powerful ATVs – think the Yamaha Raptor 700.
Skat-Trak Extreme owners laud these tires for how light they are with outstanding flotation. The Hauler-style paddles are well known to offer next-level hook up in the sand. The only reason we didn't put them No. 1 on our list is that they are pretty spendy and really only meant for the most powerful Sport ATVs on the market.
No matter what sort of tire we're shopping for, ITP is one of the first brands we turn to; the brand's reputation for quality and performance is well-earned. Perhaps that's what makes the ITP Sand Star one of the most popular ATV sand tires around. The rear tires have more biting edges than most other designs on the market, with eight deep, 30mm paddles and an additional eight "mini-scoops," lending the Sand Star exceptional hook-up and acceleration. The fronts feature dual full-length ribs to facilitate steering.
It is worth noting that these are not all-out performance sand tires, so if you are looking for the best drag race tires in the sand, there are better (and more expensive) options out there. But for the majority of riders who are looking for an all-around ATV sand tire, the ITP Sand Star is a great choice.
Skat-Trak's expertise in the arena of ATV sand tires is unmatched, and the Edge has proven to be an excellent option for Sport ATVs. The Skat-Trak Edge uses V-shaped paddles that measure 7/8" tall and 13" wide. This particular design was created to make turning easier. That V-shape also helps move a lot of sand in a lightweight package. This design is not ideal for ultra powerful UTVs, but are perfect for Sport ATVs.
There are better designs out there for hill climbing and straight line speed, but the Skat-Trak Edge is in the running for the best handling ATV sand tires in the industry.
Similar in design to the ITP Sand Star, the Maxxis Razr Blade places among the best ATV sand tires on the market largely by virtue of its ability to tolerate high heat and keep performing in grueling desert conditions. The Razr Blade has a rounded profile and lightweight 2-ply rating for exceptional flotation and cooling, and the rear tire's v-shaped blade paddles and alternating corner ribs were built not just to deliver exceptional hook-up and acceleration, but precise, predictable handling as well. And not that it will help your ATV deliver power or handle any better over sand, but the Maxxis Razr Blade also features one heck of a cool design on the carcass, with RAZR BLADE lettering and a nifty triangular logo.
Looking at the Maxxis Razr Blade, this sand tire shares a pretty similar profile to the ITP Sand Star. We did some digging and owners seem torn between the two - some prefer the Razr Blade and some the Sand Star. But the majority of owners really like these for some recreation in the dunes (though perhaps less so for all-out performance).
Can I run regular ATV tires in the dunes?
Absolutely, you can. In fact, most all-terrain tires will perform pretty well on the sand. We've ridden a Yamaha Raptor with stock tires and climbed the biggest hills we could find in Glamis. However, regular tires do have their limitations and you can end up stuck if you aren't careful.
Should I deflate my tires for sand?
If you do choose to run regular ATV tires in the sand, taking some of the pressure out will allow you to "float" on the sand a little easier. You should consider deflating your tires quite a bit (just make sure you don't pop a bead). You will definitely want to bring a pump with you to fill the tires back up again when you leave.
How much should I deflate my tires for sand?
With regular all-terrain tires in the sand, letting some air out is highly recommended. The goal is to keep just enough air in the tires the bead will remain seated in the wheel - about 5 pounds of pressure should still be safe. But if you happen to have beadlock wheels, you can go a bit lower. If you run proper sand tires, you can keep a bit more air in the tires and still have outstanding traction.
How do you avoid getting your ATV stuck or buried in the sand?
Momentum is your friend in the sand dunes. If you are climbing a hill and feel your ATV starting to bog down, it's time to bail on the climb and turn back around - this is not the time to gut it out and try to force your way up. Another tip is to avoid stopping your ATV when it's pointed up hill. Always park your machine on flat ground or with the nose pointed down hill. This will keep your tires from digging your rear end into a hole when you start back up again.
Recent Updates
05/18/2022: Updated product descriptions an product links
May 17, 2021: Added the Skat-Trak Edge to the list and some FAQs.
Additional Resources
We are committed to finding, researching, and recommending the best products. We earn commissions from purchases you make using the retail links in our product reviews. Learn more about how this works. Aaron Brzozowski
Aaron is a freelance writer, videographer and car enthusiast based out of the Detroit area. He has a special affinity for the Porsche 944 series, and once owned a Volvo 240 sedan with a Weber carb in place of the factory EFI system. His work has appeared on AutoGuide, GM Authority, /Drive, and VW Vortex, among other sites.
More by Aaron Brzozowski
Published September 21st, 2020 11:08 AM
Top Brands
Popular Articles