45 Views
March 29th, 2021 1:09 PM
Share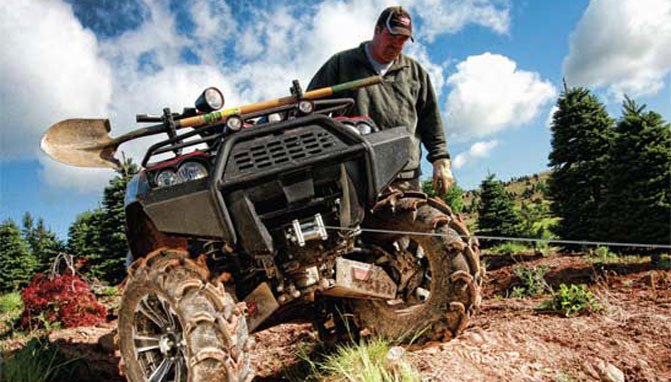 A good winch will get you out of a bad spot
An ATV winch can be the difference between making it back at the end of the ride, or taking the long walk back and thinking over and over again, "How am I going to solve this one?" Putting a winch on your ATV is cheap insurance and you'll find you have more uses for it that you initially think. They are great tools to have.
There are several different sizes of winches out there and for larger UTVs, you want to go bigger. But for a standard ATV winch, a 2500-pound or 3500-pound capacity is more than adequate for just about any use you'd need a winch for. These will let you pull your ATV out of the muck, handle a snow plow or clear most trail obstacles.
Not all ATV winches are created equal, however, and you definitely get what you pay for. Spend more, and get a quality winch, especially if you're going to be using it often. Get a good, quality winch and then get the proper mount for your machine. You'll save yourself a ton of headaches in the long run.
To help you get started on your winch journey, we've done the research and put together a list of the best ATV winches available today. These will include ATV winch options from the top manufacturers with every imaginable feature down to some more basic, wallet-friendly options.
Table of Contents
1. Editor's Choice: WARN AXON
When it comes to the best ATV winches, the conversation needs to start with the WARN AXON lineup. WARN offers other options for ATVs (and we will get to those later), but the AXON is the brand's latest and greatest powersports winch. Each AXON winch comes with a Motactor which is a combination of a winch motor and a digital contractor in a single unit. This offers better performance than any other WARN winch...and it makes installation way easier. The WARN AXON also includes full IP68 waterproof construction, all-metal three-stage planetary geartrain, durable one-piece tie plate, and stainless steel fasteners. The entire package is backed up by a limited lifetime warranty on mechanical components and a three-year warranty on electrical parts.
The WARN AXON is available with 3500-, 4500-, and 5500-pound capacities with each size being offered with either a 50-foot steel rope (7/32" for the 3500 and 1/4" or the 4500/5500) or a 50-foot Spydura synthetic rope (3/16" on the 3500 and 1/4" on the 4500 and 5500).
It's definitely not cheap, but the WARN AXON ticks all the boxes we look for in an ATV winch.
Kolpin has been making great accessories for years and now that it are owned by a major manufacturer (Polaris), the quality is that much better and that is backed up with a sensational five-year mechanical warranty and three-year structural warranty. The standard Kolpin ATV winch is offered in three capacities (2500, 3500, and 4500 pounds), each available with either a steel or synthetic rope.
Features include all steel three-stage planetary geartrain, center-spool design internal gearing, sealed motor and heavy duty gears designed to operate while fully submerged under water, automatic mechanical cable drum brake, heavy duty load relay to protect the motor, color-coded quick-connect wiring harness, handlebar-mount controls with wiring harness, and four-way roller fairlead.
Superwinch is right there with WARN in reputation for quality and the Terra line is the brand's premier ATV winch option. The Terra is offered in three different capacities (2500, 3500, and 4500 pounds) and you can choose between a 50-foot steel or synthetic rope.
Superwinch prides itself on building robust winches and the Terra is no exception, boasting extra wide gears. This helps ensure an evenly distributed load, along with improved engagement and longer life. Further improving longevity are steel cut gears on the second and third stage.
As for the Superwinch Terra motor, the brand boasts it uses the "biggest, heaviest motors allowed by law." Other features include thick copper winders to deliver efficient power with more surface area for faster cooling, and sealed cartridge bearings on both sides of the motor.
WARN introduced the VRX ATV winch lineup at the same time as the AXON, but targeted it to a more price-conscious buyer. The VRX features all metal IP68 waterproof construction, meaning it can be submerged in 1.5 meters (just under 5 feet) of water for 30 minutes and still come away working perfectly. Other features include all-metal three-stage planetary geartrain, powerful motor with fast line speed, integrated load-holding brake, and easy-to-turn clutch dial.
The WARN VRX is offered with 2500-, 3500-, and 4500-pound capacities and comes with either a 50-foot steel rope or 50-foot synthetic rope (we always prefer synthetic to steel). And each VRX is backed up by a limited lifetime mechanical warranty and three-year electrical component warranty.
For owners of smaller ATVs, the VRX 25-S would be a great choice, but heavyweight ATVs would be better served with the VRX 35-S.
While the KFI Assault is the brand's flagship winch family, with a capacity of 5000 pounds, it's a bit overkill for ATV use. However, the KFI Stealth lineup makes for a perfect ATV winch. It is offered in three capacities (2500, 3500, and 4500 pounds), all of which come with a 50-foot synthetic rope.
Other features include a cable hook stopper, dynamic and mechanical braking system, water-resistant seals, four-hole mounting system, and an all metal turn clutch. Each Stealth also comes with a mini-rocker switch designed to fit on a handlebar, as well as a heavy duty electric contactor to protect your electrical system while switching the power distribution of the winch that is controlled by the switches. If you jump up to the 3500-pound model also get a handheld, 14-foot corded remote so you can operate the winch at a distance.
KFI backs up the Stealth lineup of ATV winches with a one-year limited warranty.
One of our favorite ATV and UTV aftermarket companies, it's no surprise that SuperATV has a winch lineup. In fact, it makes winches in four different capacities (2500, 3500, 4500, and 6000 pounds), all of which come with a 50-foot synthetic rope. When it comes to ATV winches, we'd suggest either the 2500- or 3500-pound options.
The SuperATV Black Ops winch is built with weatherproof seals and waterproof solenoid that are designed to keep performing even when you are deep in the water or mud. Other features include a wireless remote with a 50-foot range, rope stopper, and hook pull strap. As well, each SuperATV Black Ops winch is backed by a one-year warranty against manufacturing defects.
Tusk products, the house brand from Rocky Mountain ATV, has gained a reputation for being really high quality at a decent price. Tusk ATV winches are a great way to save some scratch and you can get them in 2500- and 3500-pound capacities. The 2500-pound version comes with a 50-foot wire rope, while the 3500-pound option has a 50-foot synthetic rope. They are available alone or with a vehicle-specific mounting plate.
Features include a heavy duty 730-watt motor, clutch knob, mini rocker handlebar switch, roller fairlead, heavy duty hook, mounting hardware, and all the necessary wiring you need for installation. Components come sealed and a water-resistant design helps keep the winch working properly in the nastiest conditions.
Recent Updates
March 26, 2021: More details on each winch added, along with two new additions to the list from SuperATV and WARN.
We are committed to finding, researching, and recommending the best products. We earn commissions from purchases you make using the retail links in our product reviews. Learn more about how this works.
Should I get a steel or synthetic winch rope?
While a steel winch rope is a little easier on the winch itself, modern winches are better built to handle that stress. That's why we prefer a synthetic rope. Going synthetic means you won't get steel slivers in your hands when you handle it and it won't ever kink or rust. They are also safer, as a broken steel winch line under load can be a nasty weapon.
What size ATV winch should I get?
Our preference for an ATV winch is a 3500-pound capacity. That is plenty of power to pull you out of the mud or whatever jam you find yourself in. A 2500-pound winch can also work, but having a bit more power on hand never hurt anybody.
Published February 8th, 2017 11:37 AM
Top Brands
Popular Articles