327 Views
Best Honda Pioneer Tires for Extra Traction and Durability
April 5th, 2021 4:05 PM
Share
We're committed to finding, researching, and recommending the best products. We earn commissions from purchases you make using links in our articles. Learn more here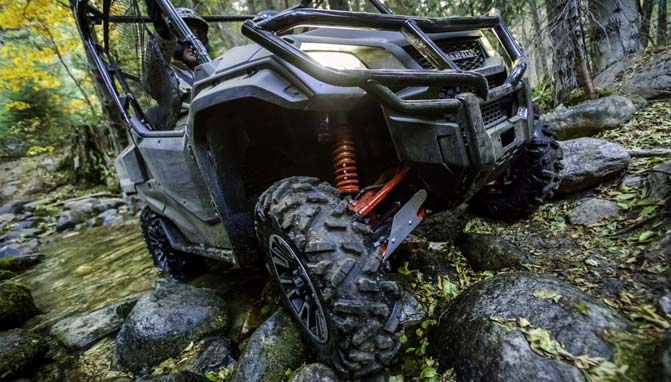 Take your Pioneer's performance to the next level with new tires
If you're still running the factory Honda Pioneer tires, now might be a good time to look at your options.
The tires that came on your Pioneer from the factory are perfectly fine – adequate for basic off-road use, and tough enough to last a bit before needing replacement. That said, there's plenty of room for improvement, whether you're looking for a bit more traction over intermediate and hardpack trails, stronger rock-crawling performance, or just a bit more durability and puncture-resistance. As the number one most important performance part on your Honda, you owe it to your ride to shop around for the right set of replacement Honda Pioneer tires.
So, what are your options? We've put together this list of the best Honda Pioneer tires for extra traction and durability, with a breadth of well-regarded, rugged tire options from some of the biggest brands on the market. Whether you're tire shopping for a Honda Pioneer 1000, looking for your next set of tires for Honda Pioneer 700, or even browsing Honda Pioneer 500 tires, you'll be able to find something on this list that works for you.
Table of Contents
1. Editor's Choice: Kenda Bear Claw
Head to any off-road vehicle park in America on a busy day and you're liable to spot at least one set of these: Kenda Bearclaw all-terrain UTV tires. Yes, they're just that good. The Bearclaw features a tough 6-ply-rated carcass and a hard-wearing tread compound that should endure multiple seasons of regular use, with a built-in rim protector to give your wheels an extra line of defense against damage. Mostly at home on dry loose dirt, loam, stones, and grass, the Bearclaw rocks a cleverly-designed tread pattern with 15 to 20 mm of tread block depth, depending on the size, for awesome traction in a range of conditions. They're the perfect everyday tires for Honda Pioneer 700, and a nice upgrade for the stock Honda Pioneer 500 tires, too.
2. Most Durable: GBC Kanati Mongrel
Toward the pricier end of the Honda Pioneer tires gradient, we have these: GBC Kanati Mongrel tires. Boasting "championship ATV/UTV performance," the Mongrel is a rugged, hard-wearing 10-ply-rated bruiser featuring radial construction for a smoother ride and more predictable handling at speed. It's been developed specifically for today's high-performance, high-powered side-by-sides, with a tread designed to thrive over all sorts of terrain – soft or hard, wet or dry – and a rounded profile with full-coverage tread that wraps all the way around from sidewall to sidewall for the utmost in performance and responsiveness. The GBC Kanati Mongrel is the all-terrain tire you get when no other all-terrain tire has met your expectations.
One of our personal favorite tire series of all time, the ITP Mud Lite range is lightweight, affordable, and oh-so-good on the trail. The ITP Mud Lite AT is a bit more all-terrain-focused than the other mud-centric tires in the range, with a tread depth of 21/32" inches – about 17 mm. It's still a 6-ply-rated bias-construction tire, though, making it a plenty durable trail companion, with an appetite for intermediate and loose terrain, light mud, rocks, ruts, and even snow. Best of all, as the name suggests, a set of these is lighter than your average set of mud-terrain tires, making these an all around great choice for replacement Honda Pioneer tires.
Carlisle is among the leading factory tire suppliers for new ATV and UTV models, and there's a very good reason for that: it offers one of the best balances of performance and value in the business. The Carlisle AT489 XL makes for a great set of Honda Pioneer 500 tires – as well as the Pioneer 700 and 1000, for that matter – thanks to an aggressive tread design with ¾"-deep lugs and mixed-terrain versatility, specializing in soft and intermediate terrain and mud. The AT489 XL carries a 3-star ply rating, signifying the equivalent of 6-ply construction, making it plenty durable and puncture-resistant, to boot. It marks a significant upgrade over your stock Honda Pioneer tires – and one that won't break the bank.
One of the newest tires in the Sedona lineup, the Sedona Coyote is among the best performance bargains on the market, delivering an ultra-durable 6-ply-rated "New-Tech" carcass and an insanely grippy, aggressive tread for around the same price as plenty of other, less high-tech competitors. There are almost too many standout features to list: integrated rim-guards to protect your wheels from damage; side lugs to supply extra traction while rock-crawling or traversing deep ruts; siped tread lugs designed with "Smooth Ride" technology that reportedly rides better than anything else in the segment; and more. Even if you're shopping for Honda Pioneer tires on a strict budget, that doesn't mean you have to suffer through sub-par tires.
Become an ATV.com insider. Get the latest news first by
We are committed to finding, researching, and recommending the best products. We earn commissions from purchases you make using the retail links in our product reviews. Learn more about how this works.
What size are the stock tires on the Honda Pioneer?
The Honda Pioneer 500 (and the newer Pioneer 520) comes from the factory with 24x8-12 tires up front and 24x10-12 in the rear. Stock Honda Pioneer 700 tires (and 700-4) are 25x8-12 front and 25x10-12 rear, while the stock Honda Pioneer 1000 tires (and 1000-5) are 27x9-12 front and 27x11-12 rear.
What is the Honda Pioneer bolt pattern for wheels?
If you are also looking for new Honda Pioneer wheels to go with your tires, you need to know the bolt pattern. Interestingly, not all Pioneers are the same. The Pioneer 500 and 700 models have a 4x110 pattern, while the larger Pioneer 1000 family has a bolt pattern of 4x137. Aaron Brzozowski
Aaron is a freelance writer, videographer and car enthusiast based out of the Detroit area. He has a special affinity for the Porsche 944 series, and once owned a Volvo 240 sedan with a Weber carb in place of the factory EFI system. His work has appeared on AutoGuide, GM Authority, /Drive, and VW Vortex, among other sites.
More by Aaron Brzozowski
Published April 5th, 2021 4:03 PM
Top Brands
Popular Articles